6 months after terminating its contract with Kenya Television Network, KTN TV, Alex Chamwada's tv programme dubbed Daring Abroad, could soon be on its way to our screens after a local media house announced a new partnership with Chams Media.
Announcing the news on Friday, one of Kenya's leading TV Stations, NTV, announced that the programme which stopped airing some months ago in KTN will soon be featured on NTV.
"#DaringAbroad coming soon on NTV. @ChamsMedia @AlexChamwada," read the station's tweet.
According to reports, the cash crisis that faced Kenya Television Network (KTN) due to the COVID-19 pandemic, forced the station to terminate contracts of a number of content suppliers late in March this year.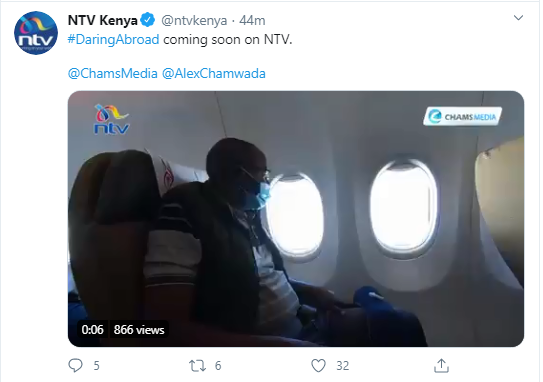 Among the programs that terminated the contract with the Standard Media-owned station included Chamwada's Daring Abroad, Chams Media, producers of Daktari comedy, and Nancy Muthoni, the producer of the weekend Property Show.
The two of Chamwada's programmes under the 'Chams Media' which include The Chamwada Report and Daring Abroad had been running at the station for the last five years.
The Chamwada Report used to be aired on Thursdays while Daring Abroad hit the screens on Saturdays. The two shows were ranked among the station's best performing programmes.
It is however not clear whether NTV will run the two programmes coherently, or it will just air one only, Daring Abroad.
In a past interview with one of the online publications, the veteran journalist revealed that one of the challenges his programme faced was the lengthy process that his team has to undergo before getting information from major industry players in Western countries, due to what he called strict data protection policies in place.
"Producing Daring Abroad, for example, requires lots of travel to different countries and regions would be a nightmare without sponsors like Kenya Airways," said Chamwada in a past interview.
According to sources privy to the programmes, Chams Media owns the copyright to not only the programmes brand names, but content as well and that is the reason why Chamwada left KTN with everything ie the content and the name.