Motorists can now breathe a sigh of relief after Police Inspector General Hillary Mutyambai announced that drivers will be allowed to produce a Digital Driving License if they don't have the hard copy with them.
Speaking during a Question and Answer session on Twitter, Mutyambai stated that the drivers will be allowed to show their soft copy of DL from the ecitizen platform as proof of being a valid driver upon request by a police officer.
He, however, communicated that the driver will be required to produce a physical copy of their Driving Licenses within 24 hours.
"If you do not have your copy of a hard Driving License, you may show the officers a soft copy from ecitizen account as proof of being a licensed driver. However, you are allowed to produce the physical copy within 24 hours," communicated Mutyambai while answering questions from a Twitter user.
At the same time, Mutyambai stated that motorists who will fail to prove that they have a driving license will be fined Sh1,000.
"Failure to do this attracts a fine of ksh. 1,000 (Sec36)" stated Mutyambai.
His response was as a result of a question asked by a user on what one is supposed to do after being stopped by a traffic officer and fails to produce a DL.
"Dear Mutyambai, If I, unfortunately, forget my Driving License and the police stopped me for routine traffic check-ups, what should be my right penalty for not displaying my DL or what should I do?" asked the user.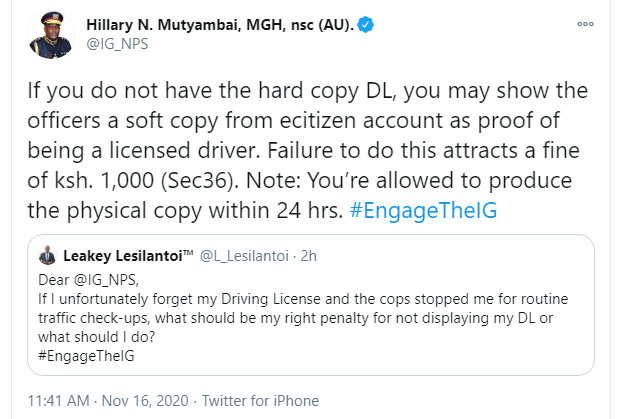 Mutyambai's response was totally in contrast with what the force had communicated last year.
In 2019, police communicated that all drivers who fail to produce their physical driving licenses will risk a fine not exceeding Sh10,000.
"Every driver driving a motor vehicle on a road is required to carry his driving license or provisional license, and upon being required to produce by a police officer, he/she shall produce it for examination," read a statement from police.
This comes at a time the deadline for application for a Smart Digital Driving License has been extended due to the covid-19 pandemic.