Even as the clock tickles towards August 2022, different presidential candidates who have publicly come out to declare their intentions to run for the country's top seat continues to crisscross the country in a bid to woe enough votes.
Top on nearly every candidate's agenda is to endear themselves to the rich vote regions, which have so far been considered critical when it comes to deciding on who will have a breakthrough in 2022 as far as presidential elections are concerned.
Among the regions considered hot cake by every presidential candidate is the Mt. Kenya region. Despite the region producing a candidate in nearly every general election, 2022 might be a different year owing to the fact that President Uhuru Kenyatta will be closing in on his two-year term.
Uhuru's imminent retirement has, however, not stopped the region from having its say in the national political arena after a section of youth from Nyeri came out to anoint the region's 'preferred' presidential candidate come 2022.
Speaking on Thursday during an official re-launching of Civic Renewal Party (CRP) in Nyeri town, the youth revealed that Mt. Kenya region had agreed on endorsing Murang'a County Governor  Mwangi Wa Iria's for the country's top seat in 2022.
The youth from the region which had largely been considered as Deputy President William Ruto's stronghold told off Ruto allies led by MPs Sudi and Ng'eno, saying they had shown disrespect to the region by insulting President Uhuru Kenyatta.
"We had decided that we would support anybody from any other part of this country to be the president in 2022 but the disrespect they have shown us has made us resolved that we, as Mt. Kenya region youths, will not support people who are insulting the president," stated one of the youth.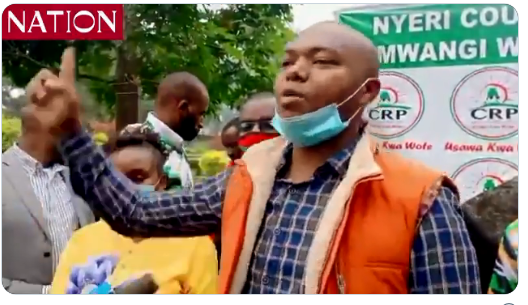 They vowed to support the governor, saying he was the only person with a vision for Kenya.
"When we scrutinised these leaders, we found out that the only person with a vision is Governor Mwangi Wa Iria. He is a tested and proven leader," added the youth
A section of Nyeri youth endorses Murang'a Governor Mwangi Wa Iria's 2022 presidential bid pic.twitter.com/7RvvhUTbvz

— Nation Africa (@NationAfrica) September 11, 2020
They hailed the governor over his efforts to build an ICU facility in Murang'a in a record of less than 21 days.
While sending a tough warning to Tanga-tanga leaders, the youths, led by their leaders, remarked that they were going to teach Ruto's camp a lesson by withdrawing their support in 2022 over what they termed as insults to the presidency.
"Nataka kuwambia wale viongozi wa Tanga-tanga, ile heshima ndogo ndogo mnatuonyesha pia sisi tunataka kuwaambia tunaweza aamua! Tulikua tumeamu tutawapatia kura, lakini sasa kama vijana tumeamua ni Ng'o!" communicated one of the leaders.
They, however, promised to support any other leader who Governor Wa Iria will advise them to support in the future.