Hours after ODM party came out to strongly condemn Deputy President William Ruto together with his allies over alleged insults to President Uhuru Kenyatta and family, Kericho Senator Aaron Cheruiyot and Suna East MP Junet Mohamed have taken to the twitter to flex their muscles.
The altercation between the two emerged shortly after Senator Cheruiyot, who is a close ally to the DP, took online to answer Junet over reports that Ruto was the mastermind of the insults perpetrated by Ngeno and Sudi against the president.
While referring to Junet as a 'cow' who is used to plowing (looting) from different fields including Kemsa and NYS under the instructions from his boss, Cheruiyot insisted that Ng'eno and Sudi were exercising their freedom of expression without restrictions.
"@JunetMohamed is damn right. As a cow that is used to till n plough various fields incldng Kemsa & NYS on instructions of the owner, he cannot comprehend how Hon Ngong & Sudi could be exercising their own free thought," read Aaron Cheruiyot's tweet.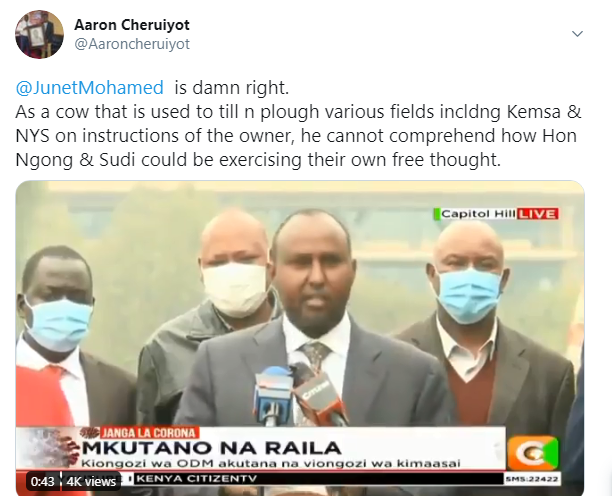 And in a quick retaliation, Junet Mohamed told off Cheruiyot claiming that the senator had no moral authority to lecture him over freedom of expression in ODM.
Junet, while rubbishing the senator, urged him to keep off his affairs and allegedly continue smoking behind parliament's toilets.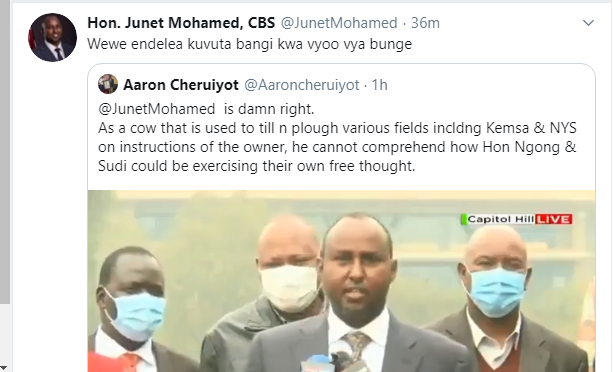 On Tuesday, ODM party faulted Deputy President William Ruto, accusing him of failing to restrain his allies who have been insulting President Uhuru and his family.
Speaking to the press, Junet Mohamed challenged Ruto to resign and fight the president from outside the government instead of pretending to be in the government while catalyzing his lieutenants to attack the president.
"Kwa Naibu Rais William Ruto, Asimamishe hiyo tabia chafu ambayo ameanza ya kutusi serikali ambayo yeye ni Naibu Rais. Kama ametosheka na serikali na amefika kiwango ya kuwa Rais wa Kenya atoke nje, apambane nje kama sisi (To Ruto, just quit if you are tired of the government, you can criticise it from the outside like us), " Junet stated.
On the other end, Bungoma Senator Moses Wetangula threw chaps at the government, accusing it of playing double standards when it comes to applying the law
Wetangula accused the government of being slow to react on a section of Cabinet Secretaries who have been outgoing hard on the Deputy President while acting swiftly to arrest those perceived to be opposing the state.
He however urged leaders to respect the presidency saying Uhuru's office was a symbol of national unity
"The problem with our country is application of double standards. Treat all equally before the law and these political bad manners will be over. The President is a symbol of the unity of the nation and deserves respect regardless," said Wetangula