On Tuesday, Interior Cabinet Secretary Fred Matiang'i surprised many Kenyans by issuing the first Huduma Namba Cards to both President Uhuru Kenyatta and first Lady Margaret Kenyatta in Kisii during Mashujaa day celebrations.
Uhuru together with the other ten persons from the Kisii region became the first holders as the rest of the country eagerly waits for parliament's approval to start receiving their cards.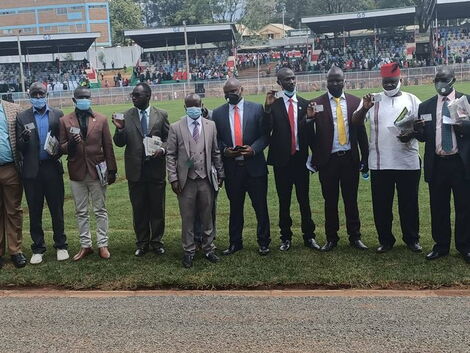 Curiously, Deputy President William Ruto was bypassed in the process sparking some questions among Kenyans on why he wasn't issued with the card.
Despite this, a section of Kenyans have come out to raise concerns after noticing a peculiar detail in President Uhuru Kenyatta's huduma namba card.
Taking to their social media sites, a number of eagle-eyed Kenyans compared the image of President Uhuru Kenyatta as reflected in today's Huduma card with the initial photo taken when he was being registered for the Namba in 2019.
During the registration, among other details that one had to submit was a passport photo, which was taken by the clerks in charge of the process. The photo was meant to be used on the card.
Social Media 'CIDs' went ahead to dig in on the type of clothes the head of state had worn during registration while comparing it to the photo reflecting on the Huduma Namba.
During registration, a passport photo of Uhuru in a white longsleeved shirt with no coat was taken but today's photo reflecting on the card had Uhuru all glad in a suit and a tie.
The same case was reflected in the first lady's Card where the passport photo taken during registration was totally different from the photo featured in the card.
This has left many Kenyans talking, with many questioning the legibility of the exercise which had already been questioned by a section of Deputy President William Ruto's allies.
Here are some of the comments from concerned Kenyans online'
"Hii huduma ni yaina yake ….
Wenye tulipigwa picha na nywele nikama tutatoka na upara my friends
" stated one user on Facebook Shiko
"Huduma is something else. Unapigwa na shati unatoka na suti. Kuna vile tunachezwa hapa" added another one by the name Karis.