Days after Interior Cabinet Secretary Fred Matiang'i successfully conducted roadside meetings in his Nyamira home county, a complained has been launched against the CS over alleged incitement to violence.
Through a letter written on 12 October 2020, to the National Cohesion and Integration Commission, C.M Ongoto and Advocates in conjunction with Gerald O. Aminga and Naomi N. Mosomi, wanted the NCIC to launch investigations on the CS over alleged incitement.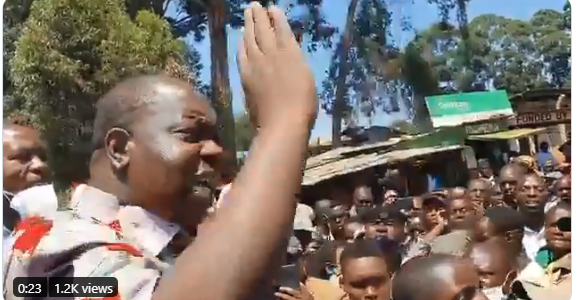 According to Ongoto Advocates, members of the public had notified them to lodge a complaint against Matiang'i whom they accused of inciting the public to violence during his two-day meetings held across Nyamira county on the 10th and 11th of this month.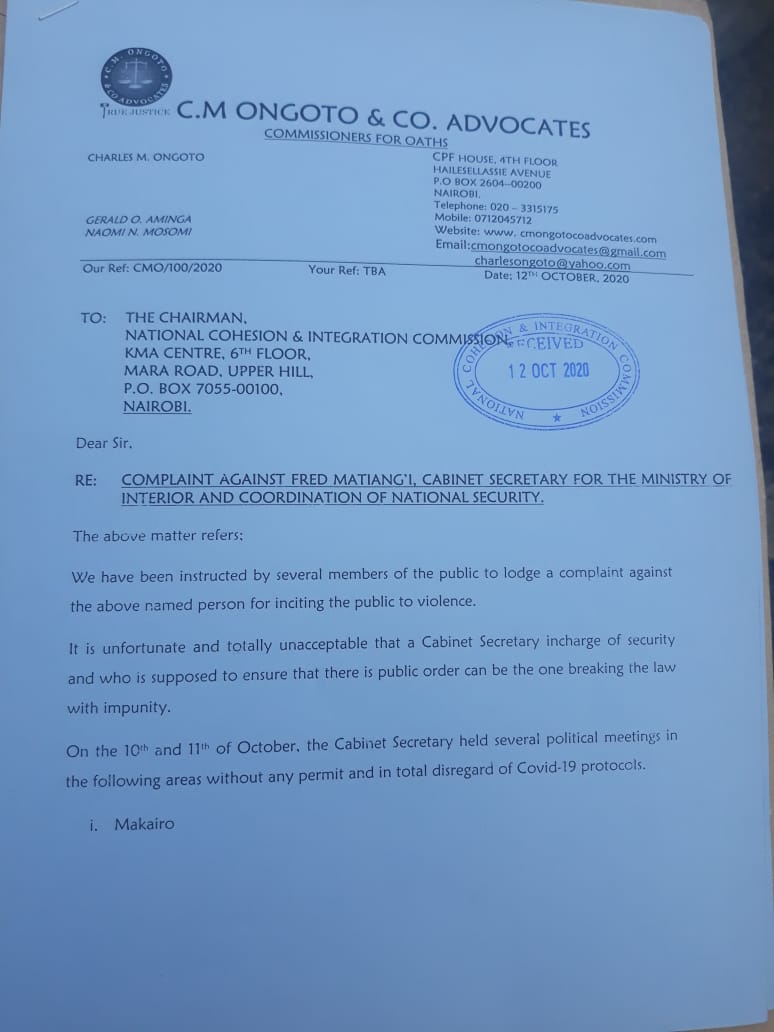 According to the letter, Matiang'i through his meetings at Nyasumi, Obwari, Magwagwa, Riamanoti and Makairo areas, while speaking in Gusii language, incited members of the Kisii community against their Kalenjin counterparts.
"In the recorded video, he can be heard declaring himself as 'Enkororo' meaning he is a member of the outlawed group 'Chinkororo' and in the same video, he said he is in charge of security and can tell the police not to take any action and let some people be beaten up," read the statement in part.
The statement went on to accuse Matiang'i of suggestively telling 'outsiders' to keep off the Kisii region (their home) and stay in their respective regions.
"In the second clip, he is telling the public that they should not allow anybody to come to Kisii and do politics and goes on to say that his people were killed," added the statement.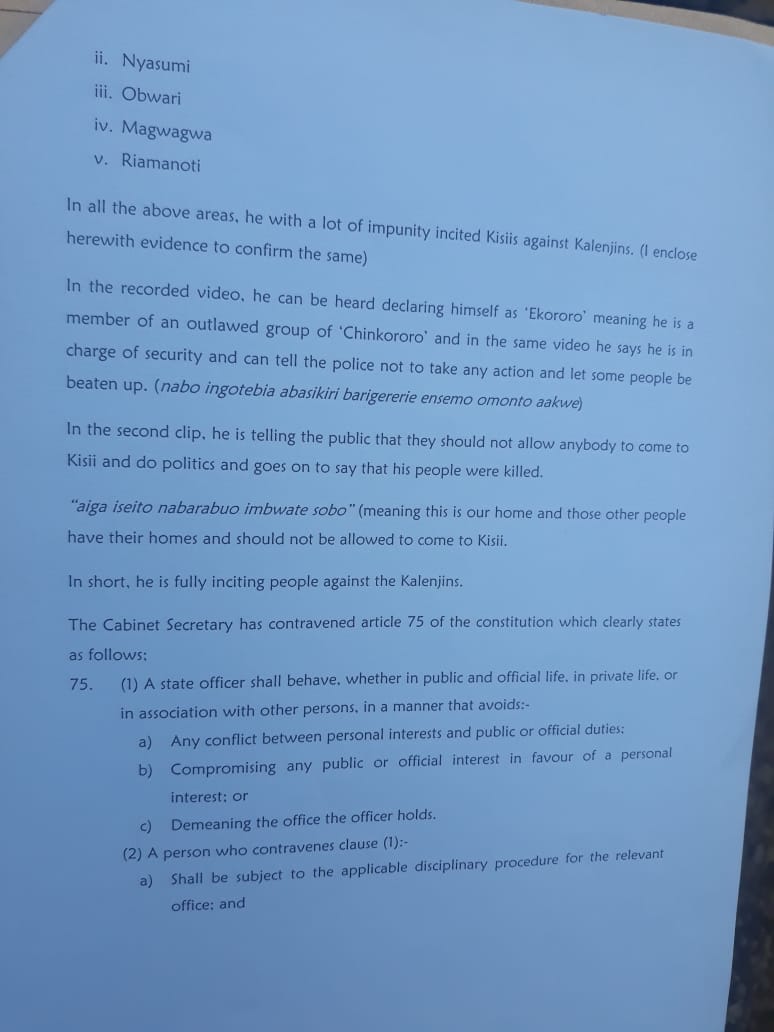 They accused the CS of contravening article 75 of the Kenyan constitution which advises against conflicts between personal interests and official duties.
The letter accused the CS of engaging in politics therefore unfit to hold public office as the CS for the Ministry of Interior and Coordination of National Security.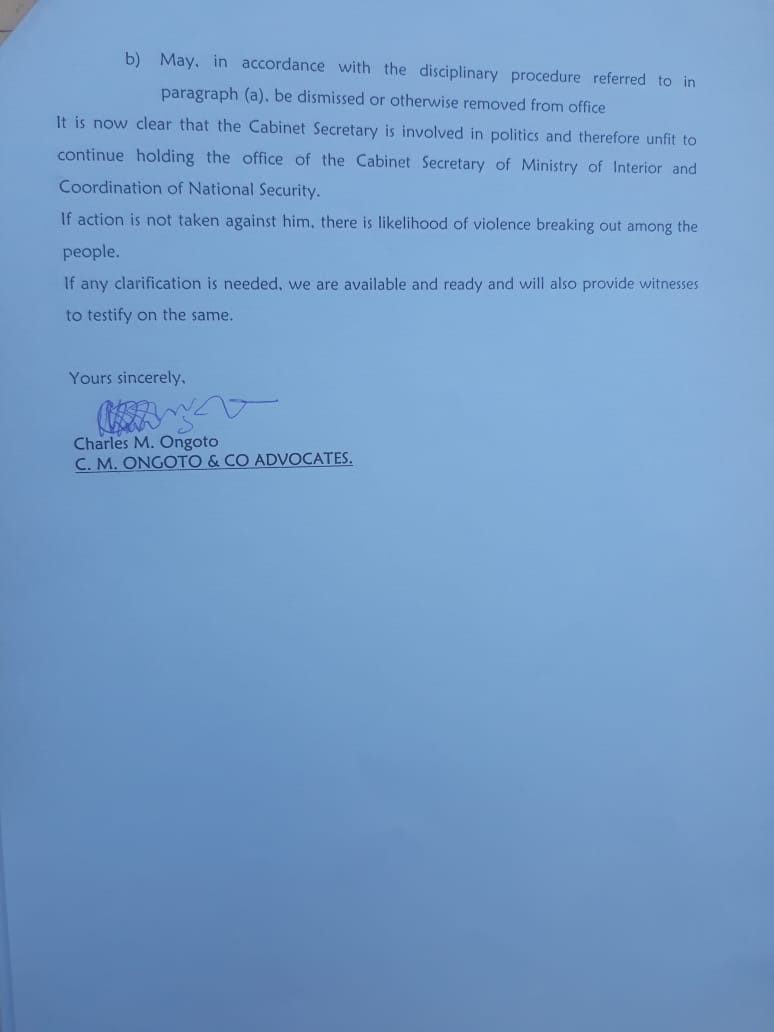 The same was echoed by Kericho Senator Aaron Cheruiyot, who accused the CS of inciting Nyamira county residents against their Kericho counterparts, whom he said had co-existed peacefully for a long time.
Cheruiyot reiterated that Matiang'i should not be allowed to sow seeds of discord in the county.
"Dear @NCIC_Kenya, Stop feigning ignorance on the hateful and inciting remarks of one @FredMatiangi
against the Kipsigis community. Nyamira and Kericho counties enjoy good relations as neighbours. The marauding CS MUST not be allowed to sow seeds of discord. Rev Kobia get to work," tweeted Cheruiyot.
Dear @NCIC_Kenya , Stop feigning ignorance on the hateful and inciting remarks of one @FredMatiangi against the Kipsigis community.
Nyamira and Kericho counties enjoy good relations as neighbours.
The marauding CS MUST not be allowed to sow seeds of discord.
Rev Kobia get to work pic.twitter.com/SfETZChcb7

— Aaron Cheruiyot (@Aaroncheruiyot) October 13, 2020