Moments after coming out to angrily lash at President Uhuru Kenyatta over dramatic arrest of Emurua Dikkir MP Johana Ng'eno, Kapseret MP Oscar Sudi's fate seems to have been sealed after a contingent of CID officers is reported to be camping at his Kapseret home.
Revealing the reports on Monday evening, Sudi's counterpart and Kimilili MP Didmus Barasa stated that the over 37 DCI officers from Eldoret had surrounded the legislators home, ready to bounce on him.
Barasa, who was recently joined Sudi at his Kapseret home for a press briefing, urged the officers to direct their energies in enforcing curfew rules instead of unnecessarily hunting down the MP.
"Am reliably informed that over 37 DCI officers have surrounded Oscar Sudi's home in Kapseret awaiting to "Cleophas Malala" him. Please NPS go and enforce the curfew and protect millions of Kenyans who may be under attack by armed robbers," read Barasa's tweet.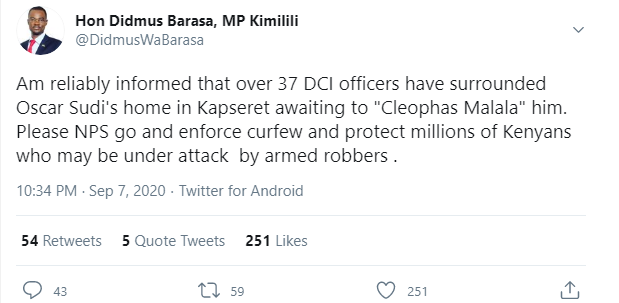 The vocal Kimilili MP went ahead to humorously urge the law enforcers to spare Sudi, saying it was only the other day the legislator obtained a Diploma in Gynaecology and had not even put his expertise into practice.
While maintaining they were not going to be intimidated by the government, Barasa communicated that they were on their way to Oscar Sudi's Kapseret home to stand in solidarity with the embattled legislator.
"Wachana na Oscar sudi. Yeye ni mtu mdogo, Makanga wa zamani ambaye ni juzi tu alitunukiwa diploma in Gynaecology from Punjab University,hata ajafungua clinic. We on our way to his Kapseret home, mtushike sisi sote. No amount of intimidation will stop an idea whose time has come," added Barasa.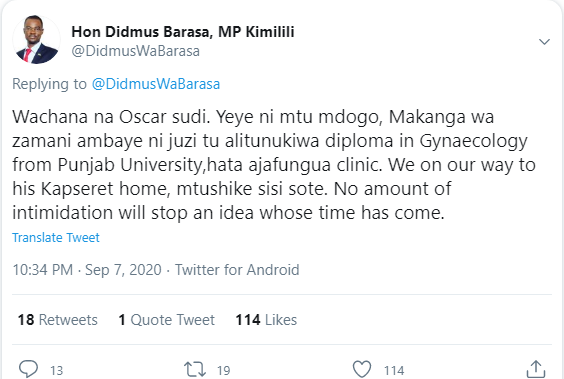 Earlier in the day, Oscar Sudi made unprintable remarks on the President together with his family, a move that elicited a bitter reaction from his boss, the Deputy President William Ruto, who in a quick rejoinder, told off Sudi with Johana Ng'eno over the insults.
Sudi however, in a quick turn of events, distanced himself from the insults, saying his remarks were misquoted and that he never meant to insult Uhuru's mother Ngina Kenyatta.
According to him, his colleague Ng'eno was arrested for mentioning Mama Ngina's name as compared to his sentiments which he claimed were meant to draw respect for all mothers in the country.
"I need to make a clarification here, I didn't insult anybody's mother. I just reiterated the fact that my mother, Mama Ngina and all other mothers are equal and they all deserve respect. However, my colleague Johanna Ng'eno was arrested because of mentioning Mama Ngina's name. No one's mother is more special than the other. That's my take.