Deputy President William Ruto's decision to poke holes in the newly launched BBI report could have been dealt a major blow after a section of Elders from the Iconic Talai community voiced their support for the initiative.
Speaking on Wednesday when they converged at Kericho town to publicly declare their stand on the report, the elders unanimously supported the Uhuru-Raila initiated report, saying it is going to solve some of the problems faced by the Talai community in the country for a long time.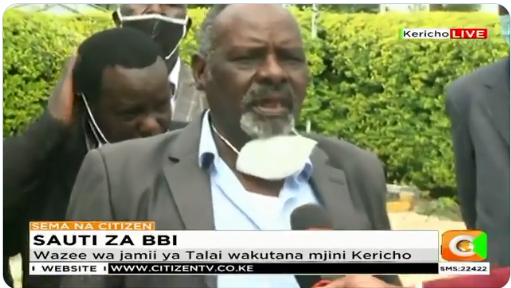 The more than 100 Talai elders drawn from Kericho county readily embraced the report saying they were ready to campaign for the report in Kericho and among all the Talai clan members.
Led by their patron Dickson Sitienei, the elders said they were hoping the report will see the light of the day as one way of helping those who have been oppressed and are still squatters in the country.
"The entire Talai clan supports this BBI report. This initiative will help the Talai people because they have been passing through a lot of problems since. We hope it will come to our aid because most of our people have been squatters in this county," he stated.
Sitienei added that they had read the report and their decision to support it was informed by the good intentions of the two leaders President Uhuru Kenyatta and Raila Odinga to bring the country together.
On his part, another Elder, Referend John Korir communicated that they were going to support the initiative because it had no bad intentions for the church since it provides freedom of worship and interactions.
"The report is friendly to the church since it gives us all the freedom to worship without restrictions hence we will offer our full support," he said.
Sauti za BBI
Wazee wa jamii ya Talai wakutana mjini Kericho #SemaNaCitizen pic.twitter.com/VCjJCY6KhL

— Citizen TV Kenya (@citizentvkenya) October 28, 2020
While promising to continue reading and making informed decisions, the elders added that they will help the two leaders in realizing their dreams to unite the nation through BBI.
Their decisions come at a time the region's kingpin Deputy President William Ruto, together with his brigade has expressed their reservations which must be first addressed before considering their support for the report.
According to many in Ruto's camp, the report is all about power-sharing between Uhuru and Raila and nothing beneficial to the common Kenyan residents, something that Uhuru and Raila have openly rejected.