A traffic officer's attempts to slap a bus driver nearly ended in tears after passengers ganged up against him as they come to the driver's rescue.
In a viral video doing rounds on social media sites, the rogue officer, from an unconfirmed location, is seen struggling to confront a bus driver over unspecified reasons.
The officer, who was stretching over towards the driver's seat is seen assaulting the driver, who remained quiet for the better part of the confrontations.
It was however the officer's uncouth behavior that seemed to have irritated most passengers who joined hands to tell off the officer.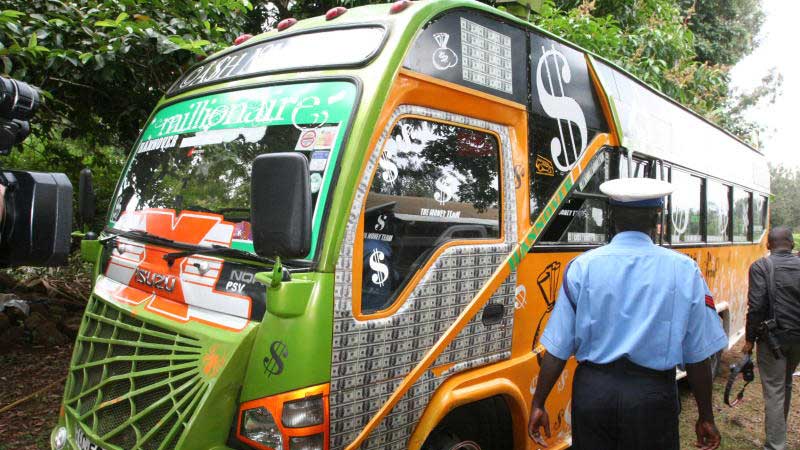 The officer slapped the driver and a male passenger seated next to the driver couldn't resist the officer's behavior anymore and he started pushing him off the vehicle.
"Kwa nini unampiga dereva? achana na dereva (Why do you want to pick a fight with the driver? leave the driver alone," shouted passengers from the back seats as they threatened to eject the rogue officer.
A female voice is heard in the background ordering the officer to stop harassing the driver as he has done no mistake. Another one is heard lamenting about the officers' actions of taking the law into his hands.
The rogue officer tried to resist attempts to throw him out, but the unforgiving passengers who were hot on his kneels successfully pushed him out of the vehicle, urging the driver to start the engine and proceed with their journey.
Polisi alijipata offside pic.twitter.com/6vkX943HQY

— Ole Teya (@Kevin_teya) October 6, 2020
The officer was finally pushed out and left in embarrassment as the driver sped off, leaving his passengers in uncontrolled laughter.
It was not immediately established on what led to the ugly confrontations between the two, an action that threatened to expose the service in bad limelight again.
Most came out to commend the passengers, saying the Kenyan officers had for a long time mistreated citizens demanding bribes, even where there are no mistakes or laws broken.