Equity Bank has once again been thrust into the limelight after a 72-year-old distraught man from Nyeri allegedly lost a huge sum of money from his account.
According to news shared on a Facebook post by the old man's son Edward Karungu, the elderly man had his account swept clean after the fraudsters allegedly siphoned the KSh 457,000 from his account through Eazzy App.
Kiragu, while giving the details of what transpired, stated that his elderly father had on the night of August 20, 2020, slept with Sh457,000 in his account only to wake up the next day to nothing.
On realizing the mess, the old man is said to have hurriedly visited Equity Bank, Nyeri branch hoping against hopes to get back his hard-earned savings which had just disappeared into a thin air overnight.
To add water on a slippery surface, the old man is said to have met the shock of his life after demanding his bank statement, only to find out that not only had he lost all his money, but the fraudsters had also gone ahead to secure a further bank loan of KSh 25,000 using his account.
"My 72 yr father wakes up on 21Aug 2020 only to find a shocker that his bank account balance is at zero. Equity systems had defrauded him. His Kes. 457,000 has vanished in the thin air. My dad, in reaction, hurriedly heads to the Equity Nyeri branch hoping that he's just having a bad dream, and its not a reality.
He requests the bank officials for a statement of his account. To his disappointment, his account is now not even zero but at negative Kes. 25,000, to add salt to the injury, the fraudster had already taken an Equitel Loan of Kes. 25,000. It is affirmed that all his savings amount to Kes. 475,000 was withdrawn via the Eazzy net as indicated in the bank statement," read Karungu's Facebook post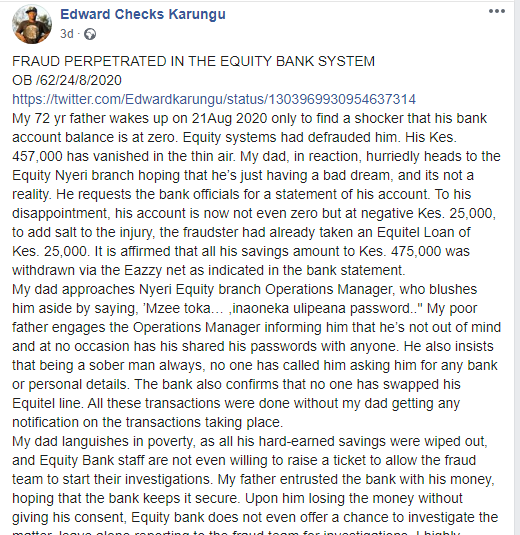 The old man's efforts to find answers from the bank's Operations Manager proved futile after the manager allegedly threw him out of his office, accusing him of giving out his password to the fraudsters.
Despite insisting he had not shared his bank details with anybody else and having bank records confirming that no one had swapped his Equitel line, the bank staff reportedly did not even offer to raise a ticket to allow the fraud team to start their investigations.
Karungu suspects that the fraudulent withdrawal was an inside job as the Equity, Nyeri branch staff are yet to rope in the Equity Criminal Investigation fraud team.
"Upon him losing the money without giving his consent, Equity bank does not even offer a chance to investigate the matter, leave alone reporting to the fraud team for investigations.
I highly suspect that the Equity staff had a hand in this theft by the gesture that the Nyeri branch operational manager is unwilling to listen to my dad report the case proceedings," added the statement.
Dear @KeEquityBank, My 72 yr dad is languishing in Poverty in Nyeri. He had a savings of 475k. Equity is not willing to raise the issue to the fraud teams for investigation. All his savings have mysteriously vanished from his account.@KeEquityBank #EquityBankTheft @DCI_Kenya pic.twitter.com/JAmr59YLvV

— EDWARD CHECKS HOWELL (@Edwardkarungu) September 10, 2020
This is not the first time the bank is coming under the spotlight over the suspicious loss of money by its customers in unclear circumstances.
In 2019, an elderly lady also allegedly lost KSh 970,216 from her bank account through the suspicious Eazzy App.
Despite the lender acknowledging receiving reports on the damning fraud allegations and promising to involve the investigative agencies, it still remains unclear on whether the woman recovered back her money.
In 2016, another customer from Meru, Anthony Muriungi Kajuju took the Equity Bank to court over an alleged loss of Sh90,000 held in his account at the bank also linked to 'Equitel Eazzy-Money'.