Days after Catholic church Pope Francis voiced support for same-sex civil unions, the Kenya Film Classifications Board CEO Ezekiel Mutua has expressed his opinion.
Speaking on Saturday, the no-nonsense CEO observed that there has been an ongoing debate claiming that Pope had endorsed homosexuality in his recent announcement and therefore the practice should be accepted as the "new normal."
According to Mutua, the Catholic church leader did not mean to endorse same-sex marriage and that there was a possibility he might have been misquoted.
Mutua opined that Pope's statements were probably meant to champion gay human rights and not to endorse the practice of homosexuality.
However, Mutua added that if Pope indeed endorsed the same, then he's grossly wrong and his advice should be ignored by Kenyans.
"I honestly do not believe that Pope Francis meant to endorse same-sex marriage, but if he did, then he's grossly wrong and his advice should be ignored. I believe his statement was in the context of "gay human rights" but not the practice of homosexuality. There's a difference between human rights and homosexuality as a concept," read his Facebook post.
Mutua added that the Pope should be condemned by all Christians if he indeed endorsed same-sex union, adding that it was wrong for a leader of his stature to go against God's plan for family and procreation.
While insisting that homosexuality is prohibited in Kenya, Mutua added that they cannot deny any existence of some who practice the act, saying Kenyans must never promote such behavior as a way of life.
"A leader of the stature of the Pope cannot endorse what's clearly against the order of nature and God's plan for family and procreation. If he did, he should be condemned and his statement taken with a pinch of salt. Homosexuality is outright illegal in Kenya and even from a common-sense point of view, wrong. While we cannot deny the existence of homosexuals, we must never promote the behavior as a way of life," he added.
Mutua, who has been so strict on Kenyan films deemed indecent and out of the conduct, revealed that Kenyans can talk about homosexuality in the context of human rights, but not as normal behavior.
"Those who practice homosexuality can do so in the countries where it is legal or like in the case of Kenya, in private. Here in Kenya, we believe that family is the basic unit of society and that the union between two people of the opposite sex is what leads to procreation, the miracle and gift of children, and population growth," added Mutua.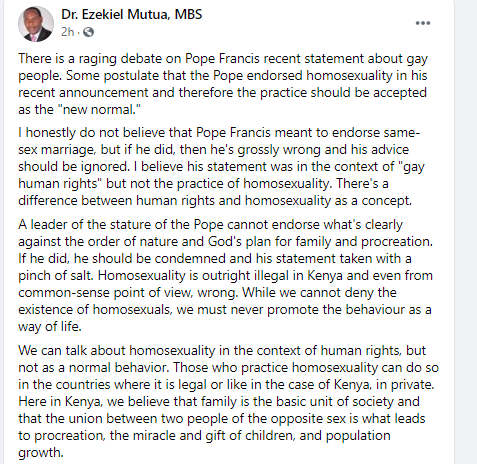 The head of the Catholic Church endorsed same-sex civil unions during an interview for his upcoming film dubbed Francesco which premiered on Wednesday, October 21.
The pontiff noted that homosexuals are also children of God who need families and should be protected by the legal provisions.