Even as the country patiently continues to wait for President Uhuru Kenyatta's next course of action after Chief Justice David Maraga's advice to dissolve parliament, Law Society of Kenya, LSK President Nelson Havi has named two consequences that will follow should the head of state ignore the advice.
Speaking on Monday evening during an exclusive interview with KTN TV, Havi communicated that should Uhuru ignore the advice, parliament and its operations were going to suffer the most.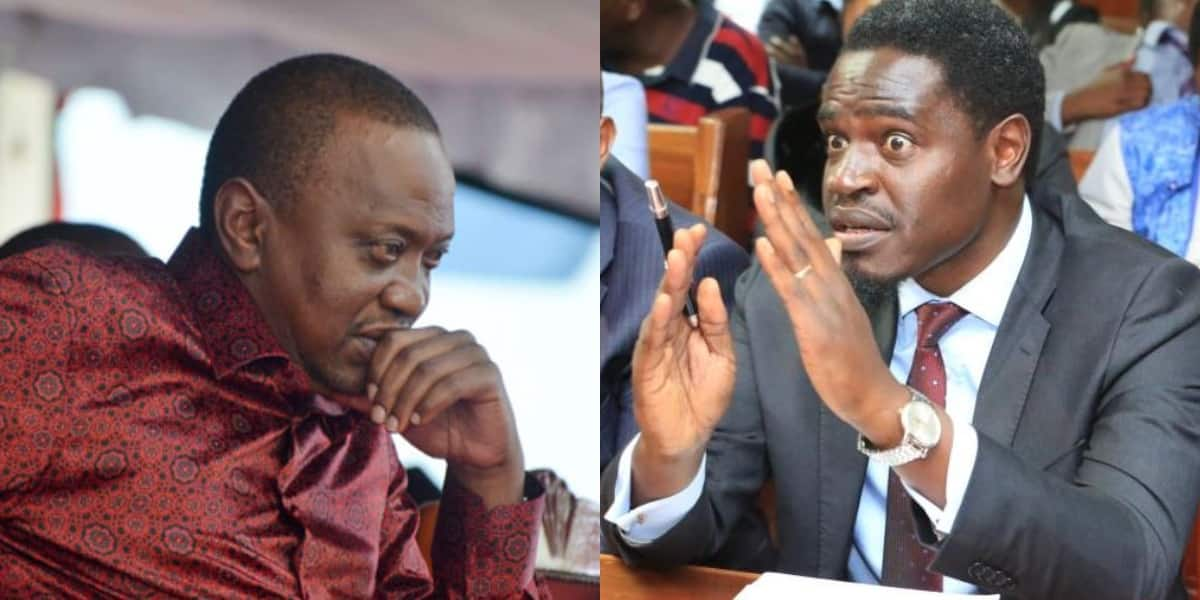 In specific, The LSK head noted that all the laws passed by the senate and national assembly effective Tuesday, will be considered null and void.
Havi went ahead to reveal that the oversight role usually undertaken by parliament which includes vetting of state appointees will be of no effect under the law.
Nelson Havi: Effective today the parliament of Kenya is in office unconstitutionally#KTNPrime @Ben_Kitili pic.twitter.com/sVRdMzuiuG

— The Standard Digital (@StandardKenya) September 21, 2020
"If the president ignores the CJ's advice, there are two consequences. Effective today, any laws passed by the national assembly and the Senate, are of no effect, they are null and void…secondly, any oversight role which is ordinarily undertaken by parliament, towards vetting of state appointees towards giving reports on state agencies will be of no effect," communicated Havi.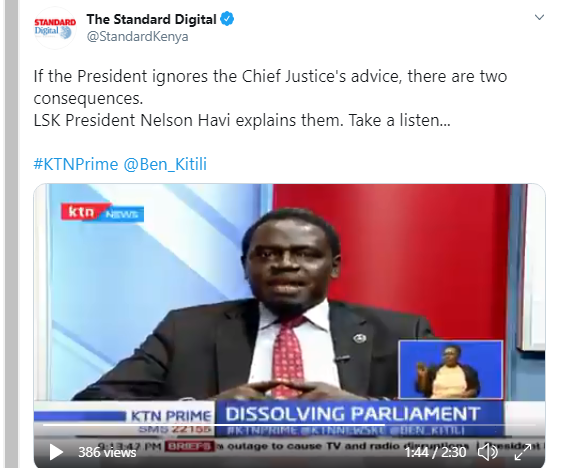 At the same time, Havi stated that the treasury should effective from today, cease from remitting salaries, and all other allowances to the members of the national assembly.
On BBI, the LSK president stated the initiative had suffered an "untimely end" because it was not possible to debate on BBI without parliament, which has already been put under stake.
"BBI has suffered an unfortunate and untimely end…because, without parliament, there will be no BBI." stated Havi.
He took the opportunity to urge professionals and Kenyans to elect leaders who are ever ready to do good things for the country, adding that the lawyers should also come out vie for the positions once they are declared vacant.
Havi said he will not be running for any elective position, rather will be there to ensure smooth transitioning of power from the current MPs to the incoming group, whom he believes will enact the two-third gender rule.
Nelson Havi: It may be imperative that we take affirmative action as has been taken by other democracies, to ensure that these MPs do not earn a salary, do not use any government vehicles and do not even step in parliament #KTNPrime @Ben_Kitili pic.twitter.com/1zrk012Lun

— KTN News Alerts (@KTNNewsKE) September 21, 2020
"There are other professionals; Doctors, nurses, journalists, architects, accountants, and others…I want you to run for office in this by-elections. If we don't, we will continuously be led by people who don't understand the constitution and we will continue suffering," stated Havi.