Even as the rest of the country continues praising the 12 member senate committee tasked with ending the stalemate in the senate over the revenue sharing formula, Kiharu MP Ndindi Nyoro seems to be thinking otherwise.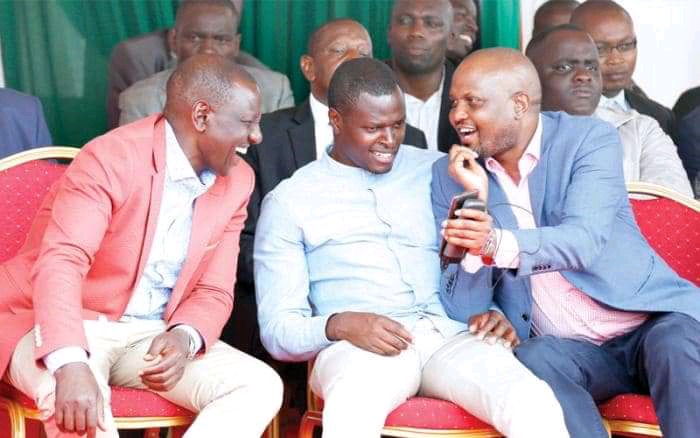 This is after the MP came out to express his dissatisfaction over the unanimous passage of the Third Basis Revenue Sharing formula by the senate today.
Taking to his social media sites on Thursday evening, Nyoro lamented claiming the newly adopted formula was a fallacy fronted by the Deep state and Senate and that it had left the Mt Kenya region worse off than before.
According to Nyoro, the "One Man, One Shilling, One Vote" has been torn into pieces and allegedly sold to the highest bidder.
While detailing how the new allocation will merely benefit the region, the Tanga-tanga allied legislator noted that with the additional Ksh 53 Billion and shareable revenue of Ksh 370 Billion, Mt Kenya got a raw deal hence lost.
REVENUE SHARE FALLACY: So called "Deep State" traded the people of Mt Kenya to political expediency. We lost. We were better off before. We are African and Africa is our Business. pic.twitter.com/7Jk29ffPcN

— Ndindi Nyoro (@NdindiNyoro) September 17, 2020
Here are full details on why Nyoro thinks Mt. Kenya region was given a raw deal today;
1. Our 11 counties namely Tharaka Nithi, Nyeri, Embu, Murang'a, Kiriyaga, Laikipia, Nyandarua, Meru, Kiambu, Nakuru & Satellite Lamu with a combined population of 10.78M got Ksh 74.9B. Meaning each resident got Ksh 6,800.
2. With Ksh 370B to share among counties, the National Per capita allocation is Ksh 7,890. At 6,800, Mt Kenya region was shortchanged.
3. Using the National Per Capita allocation as the baseline, we ought to have gotten Ksh 84B. We therefore got less Ksh 10 Billion.
4. Even on the additional Ksh 53 Billion which was ostensibly meant to right the past wrongs, we still got lower at Ksh 12.1 B against Ksh 12.2 B that was due to us.
Let me use MURANG'A as an example.
With a population of 1,056,640, we got Ksh 7.1 against or rightful share of Ksh 8.2 Billion. Meaning in regards to "One Man, One Vote, One Shilling", Murang'a lost Ksh 1.1 Billion.
Comparatively, the counties of Isiolo, Sumburu, Wajir, Mandera, Turkana, Marsabit, Garissa, Kwale & Tana River with a population of 5.6M got Ksh 72.2 B. A population half that of Mt Kenya got almost the same money. Their Per capita allocation is Ksh 12,000 against the National Average of Ksh 7,800.
This is besides the fact that these counties benefit from the Equalization Fund.
Tana River still has a per Capita allocation of Ksh 20,000 against that of Mt Kenya at 6,800.
Isiolo & Samburu residents got Ksh 17,000 each against those of Mt Kenya at 6,800.
Turkana with a population of 926,000 got more money (12B) than Kiambu with a population of 2.4M (11B).
Kiambu has a per capita allocation of Ksh 4,500 against that of Tana River at Ksh 20,000.
Before we chest thump on "how we won", let us all know that WE actually LOST. Mt Kenya region lost while we still have the "DEEP STATE and Serikali". You can't argue with facts. They are stubborn.
Dissapointed.
We are African and Africa is our Business.