Kiharu MP Ndindi Nyoro has welcomed K24 TV news Anchor Anne Kiguta's bold apology after the station cancelled his interview on Sunday evening.
This was after Kiguta, who had prepared to host the fierce defender of Deputy President William Ruto on her Punchline Show, apologized to the MP together with viewers over last-minute cancellation by the station's management.
While narrating the reasons behind the controversial cancellation, Anne Kiguta openly disagreed with the station's management saying the decision was not hers and that she did not agree with it.
"Tonight I begin by offering you an apology. We on Punch Line had invited the fiery first-time legislator Ndindi Nyoro. The Kiharu MP as you all know is a staunch defender of DP William Ruto…but that interview has been cancelled.
As the host of this programme, I have the responsibility to you the viewer and therefore, I must state that this was not my decision and I respectfully disagree with it!" stated Kiguta.

The seemingly agitated anchor expressed her frustrations saying despite the programme inviting politicians from across the political divides with different political views, the management had intentionally decided to block Nyoro's interview for reasons best known to them.
The no-nonsense anchor added that the decision to cancel the interview was within the management's rights because it is always the management that reserves the rights of admission in any show.
"We invited Nyoro to this programme and indeed we reach out to all politicians of all persuasions every single week because we and I believe in listening to all sides in the debate. However, the management of this station was of the contrary opinion and had their considered views and concerns by which this programme is bounded…and so my apologies to the viewers of this programme," she added.
And on his part, the defiant Nyoro thanked Kiguta for being straightforward and apologetic over the cancellation. The first time legislator appreciated the show host saying her apology to the viewers was honesty.
"Thank you Ann Kiguta for being forthright. I appreciate your honest apology to the viewers. We are African and Africa is our Business.." he said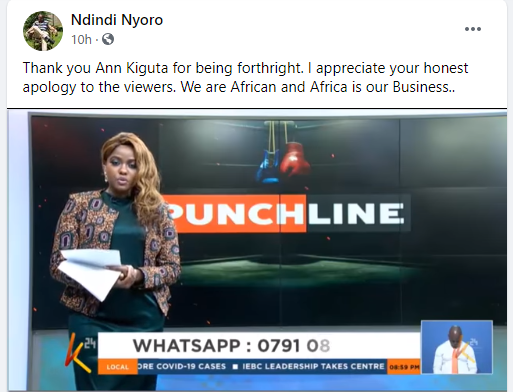 This is not the first time Nyoro's interview is cancelled by a Tv station. Last month, a similar interview at Inooro TV was cancelled in the last minute, in what many political analysts have opined as a smart tactic by the influential deep state to gag William Ruto and his allies from spreading Hustler Nation narrative.