Motorists across the country can now breath a sigh of relief after the Energy and Petroleum Regulatory Authority (EPRA) on Saturday, November 14 announced a slight drop in prices of petrol, diesel and kerosene.
Through its official social media pages, the authority announced significant drops in the prices of Super Petrol, Diesel and Kerosene by Sh1.42, Sh2.21 and Sh2.10 per litre respectively.
"Taking into account the weighted average cost of imported refined petroleum products, the changes in the maximum allowed petroleum pump prices in Nairobi are as follows: Super Petrol decreases by Kshs.1.42 while Diesel and Kerosene decreases by KShs.2.21 & KShs.2.10 per litre," read a tweet from the Authority.
The decrease in prices according to the authority is as a result of a decrease in importation costs. the cost of importing super petrol reduced by 4.45%, Diesel by 7.42% while that of Kerosene decreased by 7.42 as well.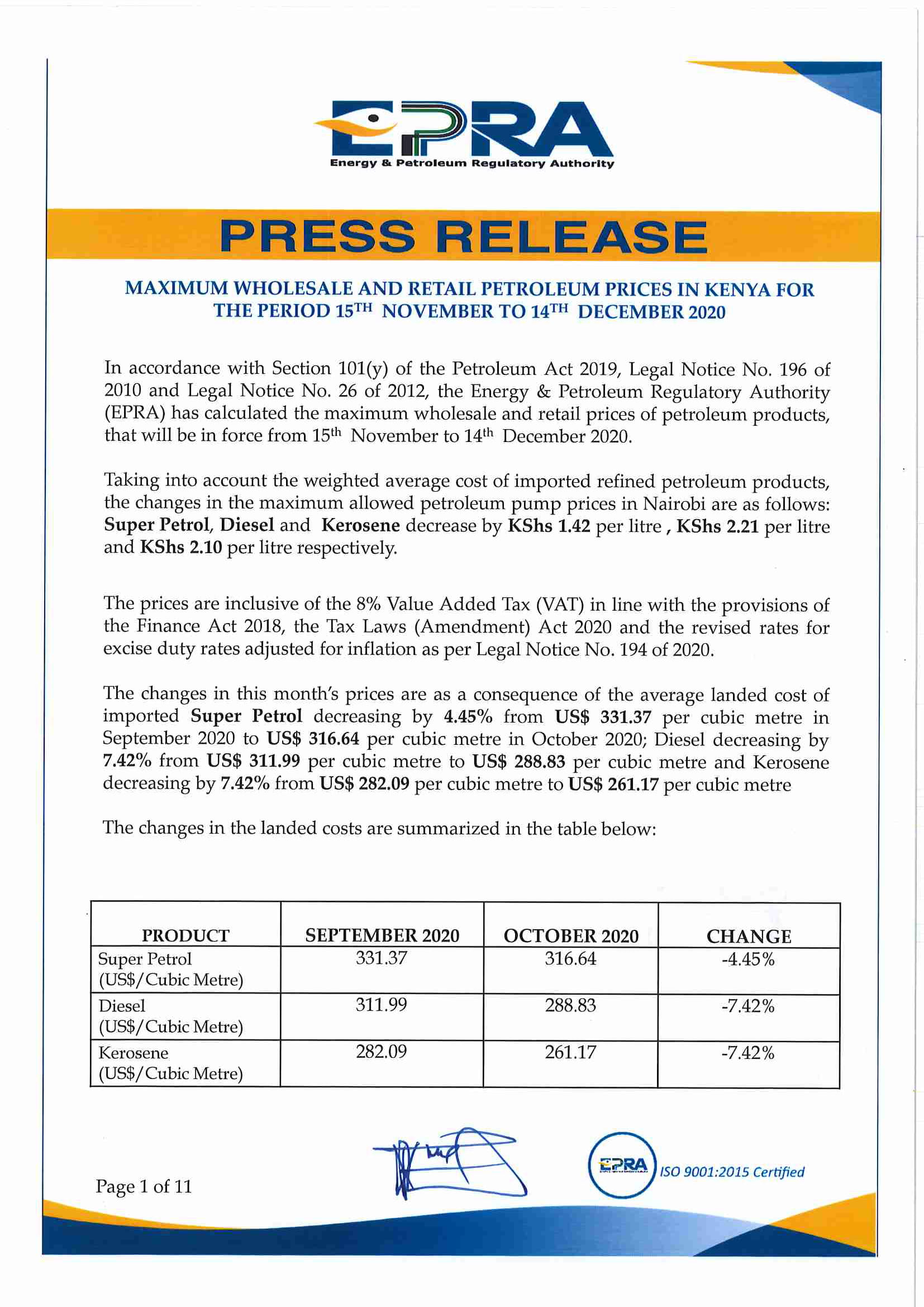 The new pump prices will take effect on Saturday midnight and will run for 30 days to the 15th of December.
In Nairobi for example, Super Petrol, Diesel and Kerosene will now retail at Kshs.105.85, Kshs.90.70 and Kshs.81.63 respectively.
"In accordance with Section 101(y) of the Petroleum Act 2019, Legal Notice No. 196 of 2010 and Legal Notice No. 26 of 2012, @EPRA_Ke has calculated the maximum wholesale and retail prices of petroleum products that will be in force from 15th November to 14th December 2020," added EPRA.
Here are the prices of the commodities in other major and minor towns in Kenya;