Two years after Kenya Police New Uniforms were unveiled by President Uhuru Kenyatta, the officers have come out to express their displeasure over the new outfits.
According to reports, more than 90% of the officers have opposed and rejected the deep blue uniforms saying they are not only ugly but also of poor quality.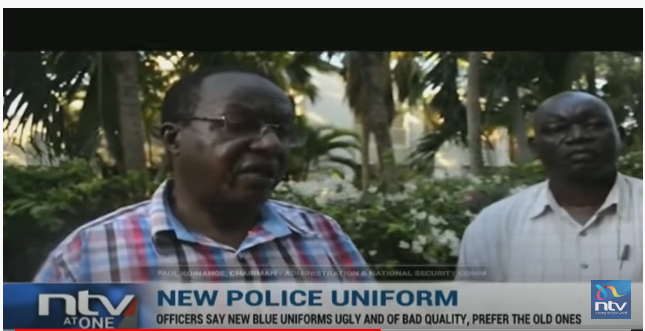 Revealing the reports on Friday, Parliamentary Committee on Administration and National Security which is on a countrywide fact-finding mission on police stations, said nearly all officers prefer the old uniforms to the new ones.
Speaking to the press, Paul Koinange, who is the chairman of the committee, stated that most officers interviewed in the twenty counties claimed that the new uniform's quality and colour is wanting.
"Police still view the old uniforms as better than the ones they currently have for many reasons. Over 90% of them are opposed to the new uniforms and would prefer to be with the old ones," he communicated.
The MP insisted on the need to find a neutral ground, so as to avoid scenarios where officers feel like they are forced to don the new attires.
"We have to find a neutral ground, where we don't seem to be forcing them on the new uniforms. We have to get a good reason why they don't like the new uniforms…They are saying the colours are not for the police and that anybody can use them…they also complained that a time, they look like Kenya power people," remarked Koinange.
He was speaking after visiting Malindi police station to interact with the officers. He maintained that they were going to ensure they help the force to get what they need so that they can serve efficiently.
Immediately after its unveiling and launching in September 2018, most Kenyans took to their social media sites to express their dissatisfactions over the colour of the new outfits.
Majority of them expressed their dislike and criticised the new uniforms describing them as horrible and ugly.
While reacting, most associated the new uniforms features like big pockets that could be used to stash bribery money among others uses.
Others opined that the government should have used the money to construct good housing for the officers instead of changing their uniforms.
https://twitter.com/MOmuttaha/status/1040179832116666369?s=20