Orange Democratic Party, ODM has rubbished reports claiming party leader Raila Odinga and famous businessman Jimmy Wanjigi were going to donate cars as one way of empowering youths.
Through its Twitter page, the ODM party noted that the circular which had already circulated on social media sites was misleading and untrue, advising the public to ignore it.
"NOTE that the poster circulating on social media fora is FAKE… ignore it" read the tweet.
NOTE that the poster circulating on social media fora is FAKE… ignore it. pic.twitter.com/uiGNbMPdvc

— The ODM Party (@TheODMparty) October 18, 2020
This was after the poster went round on social media sites claiming the duo were going to donate cars to youth groups and individuals at Jacaranda grounds in Nairobi.
However, the dates were conspicuously missing from the poster with a photo of the cars that were purported to be donated by the two included.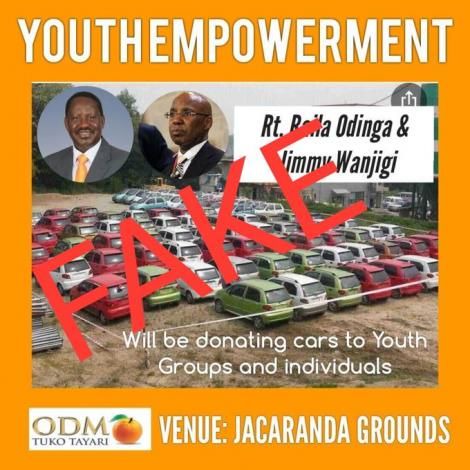 The poster came at a time ODM leader had been so critical of Deputy President William Ruto's controversial wheelbarrow donations to the Kenyan youth.
According to Raila, it was disastrous for Ruto to take Kenyan youths for granted, saying the alleged empowerment only acted to mock the Kenyan youths which make 75% of the total population.
Raila insisted on the need to put good strategies in place that will ensure the young population gets an everlasting solution to the rising rate of unemployment and not just mere solutions.
"We know who the liberators of this country are. For Ruto to claim he will liberate the youth from poverty by giving them wheelbarrows without showing them the work they will do is quite misleading," stated the former Premier recently.
Jimmy Wanjigi made the headlines after he re-united with Raila Odinga on Sunday, October 11, during a church function in Raila's Bondo backyard.
His presence in Bondo sent some chills down Raila's competitors as well as Raila's inner circles, who according to reports, were not informed by Wanjigi's arrival to Bondo.
It is reported that Wanjigi's trip to Bondo was only organized by Raila's close family members, with his advisors kept at Bay.