Well when it comes to movies, am serious fan and avid follower of especially hollywood movies and series. This year has been great for Hollywood with some serious blockbusters like the Black Panther. But there are other movies that have made it to the list of best movies for 2018. Holidays are kicking in and you need something to keep you busy. Here is what i consider 20 among the best. The list is endless and you can as well add more on the comment section but these are among those movies that you have to watch before we enter 2019. This list has been compiled by Dan Jackson
20. Bisbee '17
Released: September 5
Director: Robert Greene (Kate Plays Christine)
Why it's great: Deep into Arizona along the Mexican border, the mining town of Bisbee exists as a ghost of its former self. Or, perhaps more accurately, it's a re-creation of its former self, which makes it fertile ground for director Robert Greene, who specializes in projects that blur the line between reality and fiction. In examining the Bisbee deportation of 1917 -- a shameful chapter in America's labor history, when 1,300 striking miners were forced out of the town under threat of violence -- he's found a subject that perfectly matches his larger philosophical concerns and aesthetic tendencies. More importantly, it also allows him to expand his scope; this is a big, wildly ambitious movie. It builds toward a dramatic re-staging of the deportation, with the present day citizens of the town playing the roles of workers and deputized anti-union police force. Bisbee '17 is timely in the ways it interrogates notions of freedom, identity, and justice. In Greene's vision of the world, those who don't learn from history are bound to not just repeat it -- they reenact it, too.
Where to see it right now: In theaters (watch the trailer)
David Lee / Focus Features
19. BlacKkKlansman
Released: August 10
Cast: John David Washington, Adam Driver, Laura Harrier, Topher Grace
Director: Spike Lee (Do the Right Thing)
Why it's great: BlacKkKlansman is a police procedural about rhetoric. The story of Ron Stallworth, the first black detective hired at a Colorado Springs precinct in the early 1970s, is relatively straightforward on the surface -- the cop, skillfully played by Washington, infiltrates the local chapter of the Klu Klux Klan by phone and attempts to gather intel on the organization -- but Lee's approach is complicated. Often, the film plays like the pilot episode of a TV show given an essayistic overhaul. In addition to drawing connections to cinematic history, from Gone with the Wind and Birth of a Nation to Super Fly and Cleopatra Jones, he makes more than a handful of knowing nods to the political present, having characters mimic the catchphrases of President Donald Trump and ending the film with actual footage from last year's Unite the Right rally in Charlottesville, Virginia. Lee's message is proudly, defiantly blunt; his stylistic approach is multi-layered and tonally ambitious. The most powerful, absorbing stretches of the movie are literally speeches: Civil Rights leader Kwame Ture (Corey Hawkins from Straight Outta Compton) addresses a crowd of student radicals; later, an old man (Harry Belafonte) describes a horrific lynching. Lee lets these and other moments linger, allowing the viewer to sit with the language and consider the broader implications.
Where to see it right now: In theaters (watch the trailer)


Neal Preston/Warner Brothers
18. A Star Is Born
Released: October 5
Cast: Lady Gaga, Bradley Cooper, Sam Elliott, Dave Chappelle
Director: Bradley Cooper
Why it's great: This is a movie of competing voices: On one end of the spectrum you have the guttural croak of Jackson Maine, the hard-living, cowboy-rock troubadour played by the film's director, producer, and co-writer Bradley Cooper; on the other end is the soulful roar of Ally, the waitress harboring dreams of pop stardom played by IRL pop icon Lady Gaga. The contrast between the two vocal deliveries is part of what makes the film's syrupy power ballad "Shallow" so immediately alluring, the sonic equivalent of your goosebumps getting goosebumps, and that same tension drives the film's most compelling scenes. (Yes, that includes the meme-able moments.) A claustrophobic movie about fame, A Star Is Born works best in its tightly focused and completely captivating first hour, which explores the creative and romantic spark of Jackson and Ally's relationship. Cooper makes you believe in the fantasy of a black SUV providing a portal to another life of jam-packed festival stages, booze-soaked backstage parties, and tightly choreographed SNL performances. The second half doesn't exactly burn out -- the lead performers are too locked in -- but the flame flickers as the story hits the requisite notes dictated by the rules of an Oscar-seeking Hollywood remake. Even with these new voices, the song remains the same.
Where to see it right now: In theaters (watch the trailer)
IFC Films
17. The Death of Stalin
Released: March 9
Cast: Steve Buscemi, Simon Russell Beale, Jason Isaacs, Michael Palin
Director: Armando Iannucci (In the Loop)
Why it's great: The verbose, scatological insult comedy of Iannucci, the creator of HBO's long-running political satire Veep, somehow fits the backroom dealing of 1950s Soviet Union like a snug fur hat. When Stalin dies in the middle of the night, his middling underlings -- including Nikita Khrushchev (Buscemi) Georgy Malenkov (Tambor), and Vyacheslav Molotov (Palin) -- are left with organizing his state funeral and scurrying to consolidate power. The put-down's are as riotously funny as you'd expect -- "You smell like rendered horse, you burning asshole!" deserves a ceremonial medal -- but the silly physical comedy, particularly in the early scenes where the men discover Stalin's corpse, is even better. Iannucci remains a master of finding humor in the bleakest scenarios imaginable, exposing the petty human foibles behind history's greatest horrors.
Where to see it right now: Rent on iTunes, Amazon Video, VUDU, and YouTube (watch the trailer)
Universal Pictures
16. First Man
Released: October 5
Cast: Ryan Gosling, Claire Foy, Corey Stoll, Kyle Chandler
Director: Damien Chazelle (La La Land)
Why it's great: In his last two movies, the pummelling drumming character study Whiplash and the archly romantic musical La La Land, director Damien Chazelle explored the emotional sacrifices artists must make for their work. His latest, a flame-kissed Neil Armstrong biopic starring a tightly coiled Gosling as the mythical moonwalker, is similarly a film about emotional repression and simmering male anger, but this time the canvas is bigger. (Literally: The movie switches to IMAX mode when Armstrong and crew hit the surface of the big rock.) Chazelle's cold approach to examining individuals with an unhealthy work-life balance has often felt overwrought to me, but here, with Gosling stoically burying his feelings in pursuit of celestial glory, he's launched himself into a different artistic stratosphere. The flight sequences are visceral; the domestic scenes are no less tense. Rejecting the "science the shit out of it" triumphalism of The Martian, this is a movie that doesn't attempt to explain away the terror, confusion, or loneliness of space travel. Instead it places the viewer in the maelstrom.
Where to see it right now: In theaters (watch the trailer)
Netflix
15. Private Life
Released: October 5
Cast: Kathryn Hahn, Paul Giamatti, Kayli Carter, Molly Shannon
Director: Tamara Jenkins (The Savages)
Why it's great: Over a decade since the release of her last dark comedy, The Savages, writer and director Tamara Jenkins is back with a sprawling movie in the same vein: more hyper-verbal jerks you can't help but love. (In one of the movie's many perfect throwaway lines, a character describes a quiet breakfast as "like an ad for assholes.") Richard (Giamatti) and Rachel (Hahn) are a Manhattan-dwelling couple who have spent the last few years attempting to have a baby with little success. When we meet them, they're already in the grips of fertility mania, willing to try almost anything to secure the offspring they think they desire. With all the details about injections, side effects, and pricey medical procedures, the movie functions as a taxonomy of modern pregnancy anxieties, and Hahn brings each part of the process to glorious life. If you've only seen her as a comedic force in the Bad Moms movies, prepare to be blown away by her here. Eventually, the pair recruits 25-year-old college dropout Sadie (Carter), the step-daughter of Richard's brother, to serve as an egg donor. Soon, they form their own unconventional family united by feelings of inadequacy and hope for the future. While it's easy to praise the writing of such a self-consciously literary work -- this is probably the only movie you'll ever see that uses a Karl Ove Knausgård cover as a sight gag -- Private Life stands out because of the images Jenkins so carefully renders. The final shot, which features a moment of silence after over two hours of near constant chatter, is one you won't forget.
Where to see it right now: Stream on Netflix (watch the trailer)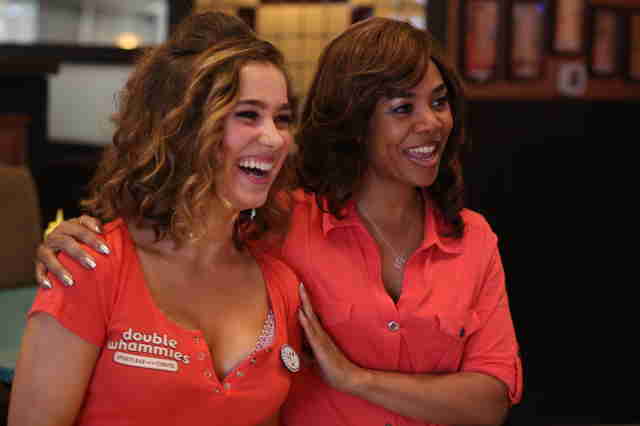 Magnolia Pictures
14. Support the Girls
Released: August 24
Cast: Regina Hall, Haley Lu Richardson, Shayna McHayle, James Le Gros
Director: Andrew Bujalski (Results)
Why it's great: The tacky world of the "breastaurant" might sound like an odd fit for former "mumblecore" auteur Bujalski, one of the premiere chroniclers of mid '00s social alienation, but the movie's family-friendly establishment Double Whammies ends up being the perfect staging ground for a funny, whip-smart comedy about labor and friendship. Put-upon manger Lisa (a brilliant Hall) has a watchful, caring eye as she looks after the younger women who work for her, serving as the negotiator between them and a large roster of rowdy customers, crappy boyfriends, and boorish authority figures. Hall embodies that kindness and generosity -- you'll wish she was your boss -- but she also shows you the emotional toll the work takes on her in the moments when her impressionable mentees aren't around. Simply put, the rat race is wearing her down. As a writer, Bujalski can satirize corporate jargon like Mike Judge, but he has a more humanistic, less misanthropic approach as a director, framing shots in a way that gives the actors room to interact and develop a natural intimacy in the workplace. Similarly, Hall gives a more complex, nuanced performance than you'll see on your average workplace sitcom.
Where to see it right now: In select theaters; rent on iTunes, Amazon Video, VUDU, and YouTube (watch the trailer)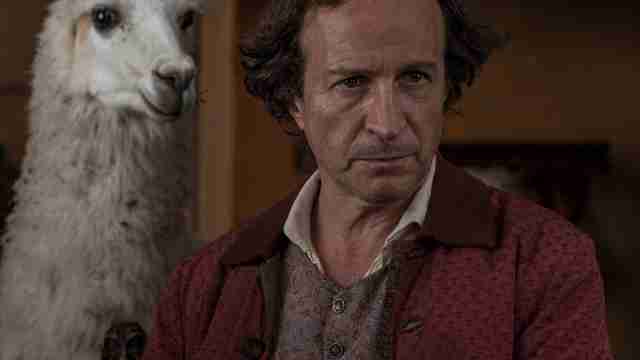 Strand Releasing
13. Zama
Released: April 13
Cast: Daniel Giménez Cacho, Lola Dueñas, Matheus Nachtergaele, Juan Minujín
Director: Lucrecia Martel (The Headless Woman)
Why it's great: Based on a 1956 novel by Argentinian writer Antonio di Benedetto, this poetically-rendered 18th century historical drama displays a wry understanding of how colonial power functions. Don Diego de Zama (Cacho) is an administrator for Spain's imperial interests, stationed in Paraguay, but he's always looking for a way out. To where? He's not entirely sure, and Martel wrings many bone-dry laughs out of his bumbling misadventures, which she frames with a surreal touch. (A shot late in the movie of a boat moving through green water looks like an image from a science-fiction film.) Like Stanley Kubrick's Barry Lyndon or the novels of Thomas Pynchon, Zama uses irony to achieve mysterious (and occasionally maddening) moments of profundity. You don't always have a strong sense of where the story is going; instead, confusion becomes an essential part of the narrative's oddly enchanting, dream-like rhythm.
Where to see it right now: Rent on iTunes, Amazon Video, VUDU, and YouTube (watch the trailer)
Marvel Studios
12. Black Panther
Released: February 16
Cast: Chadwick Boseman, Michael B. Jordan, Lupita Nyong'o, Danai Gurira
Director: Ryan Coogler (Creed)
Why it's great: Coogler's deft balancing of a high-tech spy gadgetry, ceremonial palace intrigue, fantasy action mayhem, and subversive political critique is unparalleled in the larger Marvel Cinematic Universe that Black Panther springs from. In the same way Creed, his propulsive and knowing reboot of the Rocky franchise, paid tribute to and upended boxing iconography, Coogler's take on superhero-dom is both pleasing and probing. Basically, he's got Soundcloud jokes, rhino battles, and takes on imperialism. The larger ideological conflict between the new king T'Challa (Boseman) and the American revolutionary Killmonger (Jordan) has been seen before in the pages of history books and comics, but it's never been given this type of eye-popping, brain-scrambling, heart-pounding blockbuster treatment.
Where to see it right now: Stream on Netflix; rent on iTunes, Amazon Video, VUDU, and YouTube(watch the trailer)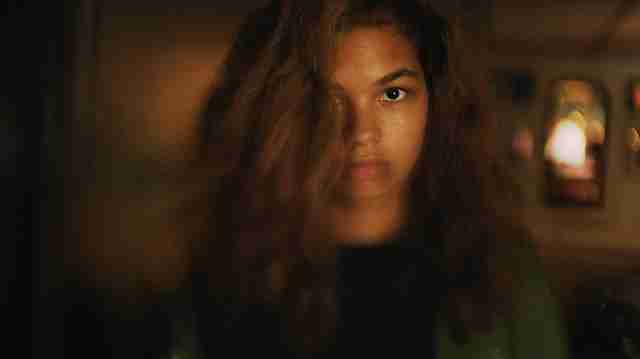 Oscilloscope Laboratories
11. Madeline's Madeline
Released: August 10
Cast: Helena Howard, Miranda July, Molly Parker, Curtiss Cook
Director: Josephine Decker (Butter on the Latch)
Why it's great: A movie as formally audacious as Madeline's Madeline makes you notice how safe most indie films are. From a plot and theme perspective, the tension-filled parental dynamic between Madeline (Howard) and her mother (July) isn't that different from other strained family dramas, but the way Decker dives into the story is completely, utterly unique. The roving camera and frenzied sound design bring you into Madeline's troubled mental state, while the presence of a gifted theater director (Parker) who becomes obsessed with Madeline as a performer further complicates the material, turning the movie into a meta-criticism of itself. Who has the right to tell whose story? Can art ever truly capture interior life? What's the difference between sense and nonsense? These are urgent, difficult questions that the movie doesn't claim to have answers to. It sounds dense and demanding -- and, honestly, it is at times -- but the poetic approach is also exhilarating. You get caught up in the whirlwind of sights and sounds. It occasionally recalls Terrence Malick's Tree of Life, but Decker is even more willing to chase the unknown. Don't be afraid to follow her.
Where to see it right now: In theaters (watch the trailer)
Paramount Pictures
10. Mission: Impossible -- Fallout
Released: July 27
Cast: Tom Cruise, Henry Cavill, Ving Rhames, Rebecca Ferguson
Director: Christopher McQuarrie (The Way of the Gun)
Why it's great: As Tom Cruise's stardom has plateaued in recent years, with recent movies like The Mummy and American Made failing to connect on a broader cultural level, the celebration of the Mission: Impossible franchise has only intensified. It feels like audiences have collectively decided this is how they want their TC: jumping out a plane, running across the roof of a building, or hanging off the side of a cliff. Honestly, fair enough! While Mission: Impossible -- Fallout isn't the best entry in the super-spy series -- my vote goes to Brad Bird's dazzling Ghost Protocol or Brian de Palma's thrilling 1996 original -- it has a keen sense of history, a wry sense of humor, and a handful of breath-taking set-pieces. (The bathroom fight and the helicopter chaseshare top honors.) McQuarrie, the first director to return for a second M:I adventure after handling 2015's Rogue Nation, is a skilled action craftsman, and, despite a 147 minute runtime, Fallout never loses momentum. It sends you hurtling out of the theater in search of similar highs. Too bad so few modern blockbusters can even breathe at the same altitude.
Where to see it right now: In theaters (watch the trailer)
Bleecker Street
9. Leave No Trace
Released: June 29
Cast: Ben Foster, Thomasin Harcourt McKenzie
Director: Debra Granik (Winter's Bone)
Why it's great: Anyone who read Hatchet or My Side of the Mountain in elementary school probably once dreamed of living off the land. The survivalist impulse, a desire to ditch one's worldly possessions and live a simpler life in the wilderness, is a deeply ingrained American ideal, one that's still taught to children despite the fundamental role technology plays in modern life. Debra Granik's Leave No Trace, her first fictional feature since Winter's Bone, digs deep into the darker side of that fantasy by telling the story of Will (Foster) and Thom (McKenzie), a father-daughter duo who live in the mountains near Portland, Oregon. Though the backstories are kept to a minimum, certain details emerge: Will is a veteran and Thom's mother died a long time ago. They only have each other -- and the forest around them. But they can't keep society at bay forever, and eventually Will is arrested for living on public land and the pair are sent to live in a house on a Christmas-tree farm, where Thom grows to like having a roof over her head and befriends a bunny named Chainsaw. Will can't adjust. Soon the pair are on the road again, hitching rides and marching through the cold woods. A process oriented filmmaker, Granik shoots their perilous journey with a combination of awe and skepticism, capturing the beauty of the natural world and the danger of life on the margins. Even if you can't imagine living without wi-fi, you'll understand the bond between Will and Thom. "Where do you live? Where's your home?" a stranger asks Thom late in the movie. Her brief response captures this film's profound emotional appeal: "My dad."
Where to see it right now: In theaters (watch the trailer)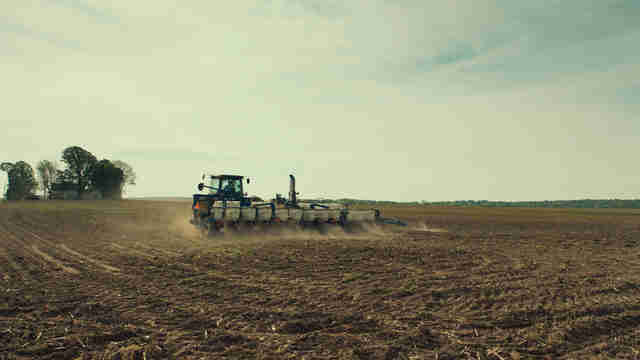 Zipporah Films
8. Monrovia, Indiana
Released: October 26
Director: Frederick Wiseman (Ex Libris)
Why it's great: At the age of 88, Frederick Wiseman knows how to make a Frederick Wiseman documentary. He chooses a subject, typically a specific location or a larger social system, and he observes the people there; once he's collected enough footage, he edits it into a series of scenes that play off each other in poetic and thematically resonant ways. They often have a hypnotic quality, playing more like a piece of ambient music than the explainer-ey documentaries that populate your Netflix homepage or Facebook feed. Still, no Wiseman is the same: Compared to the almost utopian sense of hope emanating off his previous film Ex Libris, which examined the New York Public Library, Monrovia, Indiana is bleak. It begins with a Bible study conversation about life's "tribulations" and ends with a body being lowered into the ground; in between, you learn more about this small town through its tattoo parlor, restaurants, and its local bureaucracy. (Wiseman loves a good planning meeting.) Yes, the movie demands concentration, but it also invites your mind to wander and encourages curiosity. Instead of insisting that this Midwestern town is a microcosm for a larger political or social idea, he arrives at larger truths by burrowing into the smallness of life.
Where to see it right now: In theaters (watch the trailer)
Paramount Pictures
7. Annihilation
Released: February 23
Cast: Natalie Portman, Jennifer Jason Leigh, Gina Rodriguez, Tessa Thompson
Director: Alex Garland (Ex Machina)
Why it's great: Writer Jeff VanderMeer's hallucinogenic, Kafka-like science-fiction novel proves to be fertile ground for filmmaker Alex Garland in this unsettling and surreal adaptation. Garland doesn't stick to the book's plot but he keeps the core concept: A team of women, including Portman's grief-stricken biology professor, venture into a quarantined territory of Florida known only as "Area X" to investigate a series of unexplained phenomena and disappearances. The journey quickly turns perilous and it becomes clear that group won't make it out alive. Working in the same white-knuckle register as John Carpenter's The Thing, the movie unnerves and stuns in equal measure. Refusing to provide the type of puzzle-box solutions viewers have been trained to look for, Garland leaves us with psychedelic images: grotesque animal hybrids stalking their prey, quizzical humans transforming into flowers, and shiny doubles performing interpretative dance moves. Like 2001: A Space Odyssey, it dares to dream in a language we can't quite comprehend.
Where to see it right now: Rent on iTunes, Amazon Video, VUDU, and YouTube (watch the trailer)
PETER PRATO / ANNAPURNA PICTURES
6. Sorry to Bother You
Released: July 6
Cast: Lakeith Stanfield, Tessa Thompson, Jermaine Fowler, Armie Hammer
Director: Boots Riley
Why it's great: In the music he made as a member of the Oakland hip-hop group The Coup, Boots Riley displayed a gift for tackling big, provocative ideas about politics, labor, inequality, and race with wit and nerve. It's unsurprising that Sorry to Bother You, the bracing comedy he wrote and directed about telemarketer Cassius Green (Stanfield) using his "white voice" to climb the corporate ladder, would pack a similar punch. What's perhaps surprising -- and, on a deeper level, inspiring -- is that audiences are responding to the film's anti-capitalistic message and its Putney Swope-like jabs with nods of recognition and cheers of encouragement. While the surreal visual sensibility of the film recalls a string of indie hits of the 00s, particularly the freewheeling work of Michel Gondry and Spike Jonze, those movies were often content to wallow in emotional solipsism. Eternal Sunshine was about climbing in your own brain; Sorry to Bother You is about reaching out into the world around you and shaking it up. Riley's wickedly funny, tonally adventurous story is prescriptive. It's a brilliant satire, but it's also a blueprint.
Where to see it right now: In theaters (watch the trailer)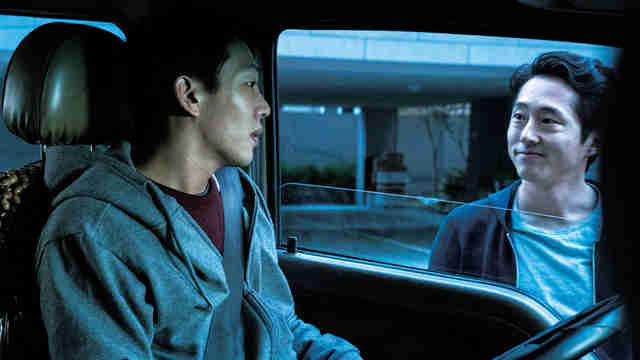 CGV Arthouse
5. Burning
Released: October 26
Cast: Yoo Ah-in, Steven Yeun, Jeon Jong-seo
Director: Lee Chang-dong (Poetry)
Why it's great: Some mysteries simmer; this one smolders. In his adaptation of a Haruki Murakami short story, writer and director Lee Chang-dong includes many elements of the acclaimed author's slyly mischievous style -- cats, jazz, cooking, and an alienated male writer protagonist all pop up -- but he also invests the material with his own dark humor, stray references to contemporary news, and an unyielding sense of curiosity. We follow aimless aspiring novelist Lee Jong-su (Yoo Ah-in) as he reconnects with Shin Hae-mi (Jeon Jong-seo), a young woman he grew up with, but the movie never lets you get too comfortable in one scene or setting. When Yeun's Ben, a handsome rich guy with a beautiful apartment and a passion for burning down greenhouses, appears, the film shifts to an even more tremulous register. Can Ben be trusted? Yeun's performance is perfectly calibrated to entice and confuse, like he's a suave, pyromaniac version of Tyler Durden. Each frame keeps you guessing.
Where to see it right now: In theaters (watch the trailer)
RLJE Films
4. Mandy
Released: September 14
Cast: Nicolas Cage, Andrea Riseborough, Linus Roache, Bill Duke
Director: Panos Cosmatos (Beyond the Black Rainbow)
Why it's great: Mandy features Nicolas Cage doing the following things: guzzling booze straight from the bottle, snorting coke off a shard of broken glass, and lighting a cigarette with a flaming severed head. Each act of chemical-assisted self-destruction serves as an apt metaphor for what watching this mesmerizing, psychedelic freak-out of a movie feels like. For his follow-up to 2010's sci-fi retro-pastiche Beyond the Black Rainbow, Cosmatos casts Cage as Red, a lumberjack living in the Pacific Northwest circa 1983. When his beloved wife Mandy (Riseborough) is murdered by a Manson-like cult and some mutant bikers, Red sets off on a path to revenge. What sounds like stock post-Tarantino premise -- the movie's plot isn't dissimilar from Kill Bill, John Wick, or Mad Max -- ends up being a trapdoor into something far funnier, stranger, and haunting than it appears. How bizarre does it get? At one point, everything pauses for a goblin-themed macaroni commercial, and you won't even blink. Structured like an LP, with side A lulling you into an ethereal dream-state and side B launching into a series of violent nightmares, the film is destined to be picked over by blood-thirsty action devotees and theory-equipped academic eggheads. (The inherent tension between hippies and heavy metal fans has never been more artfully explored.) But it's not all cult cinema references, '80s kitsch, and vintage band t-shirts. Cage's unhinged performance, which takes on an operatic quality in the bonkers final third, gives the story a much needed emotional depth. You leave completely drained. Baptized in fire. Ready to ride the lightning again.
When you'll see it: In select theaters; rent on iTunes, Amazon Video, VUDU, and YouTube (watch the trailer)
A24
3. First Reformed
Released: May 18
Cast: Ethan Hawke, Amanda Seyfried, Cedric Kyles, Victoria Hill
Director: Paul Schrader (Dog Eat Dog)
Why it's great: With this austere story of a pastor suffering a crisis of faith, writer and director Paul Schrader is back in familiar territory: His most acclaimed work as a screenwriter, 1976's Taxi Driver, was a violent, disturbing portrait of a man consumed with guilt, rage, and indignation at the state of the world. First Reformed, which finds Hawke's troubled man of the cloth Toller advising a young environmental activist and eventually becoming obsessed with his righteous cause, examines ideas Schrader has returned to over and over, but it's shot and edited in a more controlled, restrained stylistic register than his previous movies. He's using the toolkit he first studied as a critic in his book, Transcendental Style in Film, applying the approach of masters like Robert Bresson and Theodor Dreyer to contemporary anxieties, obsessions, and debates. It's a movie that seeks to, in Schrader's own words, "maximize the mystery of existence" and it accomplishes its mission with rigor and, in its final moments, shocking power.
Where to see it right now: Rent on iTunes, Amazon Video, VUDU, and YouTube (watch the trailer)
Sony Pictures Classics
2. The Rider
Released: April 13
Cast: Brady Jandreau, Tim Jandreau, Lilly Jandreau, Cat Clifford
Director: Chloé Zhao (Songs That My Brothers Taught Me)
Why it's great: The gritty authenticity of The Rider, which casts real-life horse wrangler Brady Jandreau as an injured rodeo star trying to find his second act, is perfectly balanced by a yearning poetic quality that never feels cloying or manipulative. Zhao's camera captures Jandreau, his family, and his friends in moments of pain, contemplation, and relaxation, treating a trip to a treatment center or a shared joint with the same degree of curiosity. Everything matters and has weight in this study of masculinity and ego. It's a naturalistic vision of the West that's grounded in specific details, like the slow-and-steady work of breaking a horse. At the same time, Zhao gives the movie an almost old-fashioned sports movie narrative: Will Brady, a gifted and young athlete, ever ride again? If he doesn't follow his dreams, what remains? Why keep going? These are questions that gather existential power with each seemingly low-stakes scene.
Where to see it right now: Rent on iTunes, Amazon Video, VUDU, and YouTube (watch the trailer)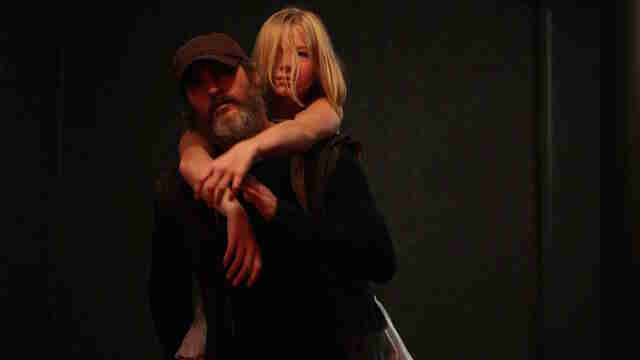 Amazon Studios
1. You Were Never Really Here
Released: April 6
Cast: Joaquin Phoenix, Ekaterina Samsonov, Alex Manette, John Doman
Director: Lynne Ramsay (We Need to Talk About Kevin)
Why it's great: You've seen hitman movies, but you've never seen Lynne Ramsay's hitman movie. The Scottish director, who many first discovered with 2002's elliptical nightlife odyssey Morvern Callar, can take a John Wick-ian premise and invest it with new meaning by reframing it from an askew angle. This crime story, adapted from a novella by Bored to Death writer Jonathan Ames, is about an ex-soldier named Joe (Phoenix) who finds himself tasked with recovering a kidnapped girl amidst a sinister political conspiracy involving human trafficking. The tone of creeping dread and fixation on violent revenge recalls Taxi Driver, last year's X-Men shoot-em-up Logan, and Nicolas Winding Refn's Drive or Only God Forgives; there should be nothing new to see here. What makes it so special? Between Phoenix's muted performance, Jonny Greenwood's string-drenched score, and Ramsay's expressive jump-cuts, every image crackles with energy, style, and possibility. It's a death-obsessed movie vibrating with life.