Just hours after Emurua Dikkir MP Johana Ngeno was arrested over his considered defamatory remarks on President Uhuru Kenyatta's family, Deputy President William Ruto has come out to weigh in on the same.
Taking to his Twitter account on Tuesday evening, Ruto, who has since become the center of conflict between a section of President Uhuru's right-hand men (cabinet secretaries) and Tanga-tanga faction, cautioned leaders against taking things too far and engaging in insults.
While making direct reference to Ng'eno's alleged insult on President Uhuru Kenyatta's mother, Mama Ngina Kenyatta, Ruto stated that it was totally unacceptable for leaders to use scornful remarks against mothers as well as President Uhuru Kenyatta.
Read More: Emurua Dikirr MP Johana Ng'eno Released then Re-arrested Again, transferred to Narok Police Station
Ruto, who recently went stormy against a section of Cabinet Secretaries over what he termed as belittling remarks against him, urged the leaders to always control their outbursts and try find amicable ways to express their anger instead.
"Leaders should exercise restraint and avoid insults and bad language against other kenyans.Unsavoury words against mothers and Head of State is a NO, NO. No amount of anger justifies use of offensive insulting language.There exists decent ways to communicate however one feels," read Ruto's tweet.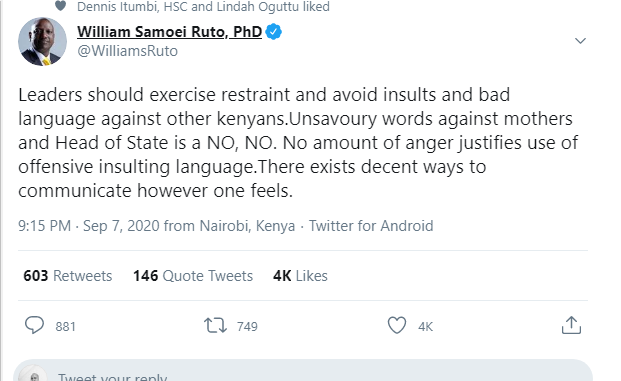 Ruto's remarks come at a time the second in command is fighting hard to reclaim his superior position in the party after a section of Cabinet Secretaries led by Environment's Keriako Tobiko and Interior's Fred Matiangi lashed at the DP over his alleged loss of respect for Uhuru.
On Monday evening, the controversial legislator was arrested at his Mogondo home and detained at Kilgoris police station in a dramatic showdown that saw hundreds of his supporters trooping to the streets in protests.
His arrest followed remarks the MP made on Sunday at Murkan area, which the law enforcers say were meant to incite communities against each other.
At one point, police officers had to shoot in the air to try and disperse the rowdy crowd which had already formed around the station, threatening to gut it down.
The officers, however, were forced to transfer the MP to Narok from Kilgoris as fears of repercussions from the residents heated up. According to reports, the MP is currently locked up in Narok Police station, where is expected to be arraigned in court on Tuesday.