The ongoing stalemate in the senate over the formula to be adopted in revenue sharing allocation has threatened to shut down operations in the counties.
But in what seems to be light at the end of the tunnel for the starving counties, Senate Minority Leader James Orengo on Wednesday drafted a letter to the Council of County Governors chair Wycliffe Oparanya.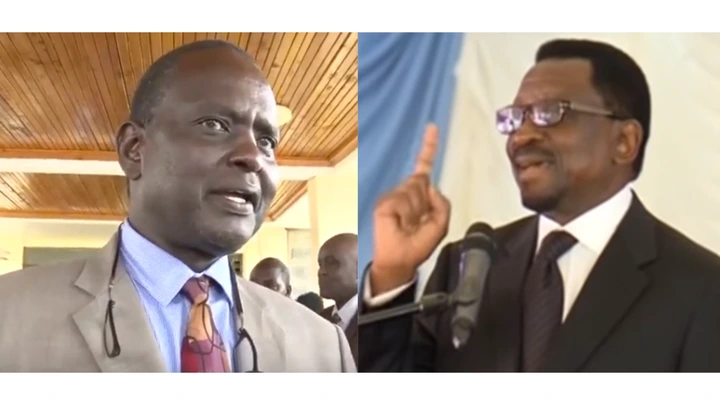 In the letter, Orengo informed Oparanya that the senators, in a meeting held at Kamukunji had reached a mutual agreement hence no need to paralyse county operations by Governors.
"You are aware of the steps being taken to resolve the revenue sharing formula. Indeed you have played a key role in the process. Debate and resolution of the senate in accordance with article 217 of the constitution is on course.
Members have generally agreed on the way forward in the Kamukunji meeting held yesterday. Please, therefore, do not take any precipitated action  that would affect services at the counties," read Orengo's letter to COG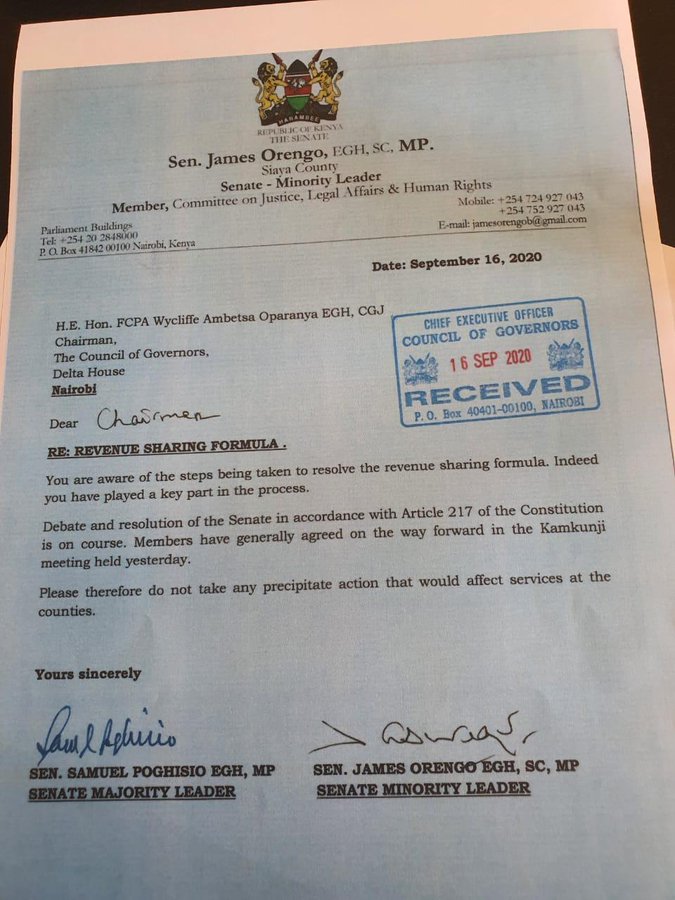 It was, however, the decision by the Leader of Majority in the Senate Samuel Poghisio, to joyride and pend his signature on the letter that got the attention of some Kenyans.
While wondering whether the opposition had taken over the role of government, some users questioned why a whole Majority Leader with his legal office could just sign an official document using the Minority leader's letterhead.
"Majority leader @sam_poghisio signing an official document using Minority leader's letterhead. The government is in the opposition!" posed one twitter user.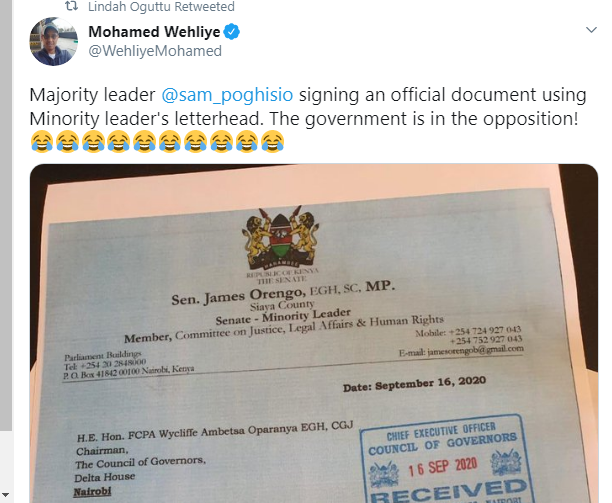 While urging the former Majority leader Kipchumba Murkomen to advise Poghisio accordingly, some blamed the new Majority Leader saying he was still inexperienced for the role.
Here are some of the reactions by a section of Twitter users;