Members of Parliament can now breathe a sigh of relief after the High Court temporarily suspended Chief Justice David Maraga's advisory to President Uhuru Kenyatta to dissolve parliament.
Justice Weldon Korir stopped the implementation on Thursday after two petitioners on Wednesday, moved to the High Court challenging Maraga's advisory to dissolve Parliament for failing to meet the thirds gender rule.
While making his ruling, Justice Korir termed the petitioner's notice of motion as merited, saying that will provide the two parties with a fair hearing pending the determination of the case.
"In the circumstances of this case, I, therefore, find the petitioner's notice of motion dated September 23 merited. I allow it in terms of prayer so that a conservatory order issued for the preservation of the status quo of the Advice of the Chief Justice dated September 21 to the president pending inter parties hearing and determination of the petition," Korir ruled on Thursday.
High Court suspends implementation of Chief Justice @dkmaraga's advice to President Uhuru Kenyatta to dissolve Parliament. https://t.co/DEv93N34qE

— Ali 'Mwamvita' Manzu (@Ali_Manzu) September 24, 2020
Korir further stated that a reading of the constitution shows that the decision of the Chief Justice is expected to trigger action by the president without any further steps being taken, adding that once the president acts on the advisory the petition would be rendered nugatory.
"It is therefore clear that failure to issue orders will highly prejudice the applicants," reads court papers.
The two Petitioners; Leina Konchella and Abdul Munasar, through lawyer Muturi Mwangi had written to the court protesting that the advice to President Uhuru Kenyatta was not judicial, hence wanted the High Court to nullify the advisory.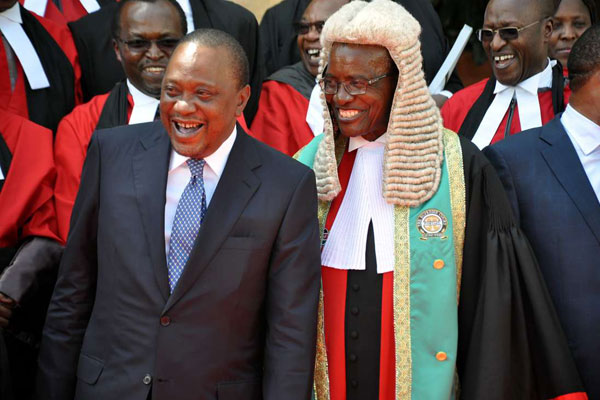 They further protested that the Chief Justice gave the advisory on his own without first holding proceedings.
The two further stated that Maraga's action is beyond his authority to the extent that it purports to be grounded on Parliament's failure to enact two-thirds gender law.
"No such timelines are specified under Article 261 of the Constitution. The argument here is that Article 100 which has timelines does not demand the two-thirds gender quota." read their protest letter in part.