President Uhuru Kenyatta Uhuru Kenyatta has appointed two former IEBC commissioners to powerful international duties.
The head of state-appointed Ms. Consolata Nkatha Bucha Maina and Ms. Margaret Mwachanya to deputy foreign mission heads positions in Rome and Islamabad respectively.
Their nominations came after the two resigned from the IEBC in April 2018, saying they had no confidence in chairman Wafula Chebukati.
On the other hand, BBI joint secretary Martin Kimani has also been appointed the permanent representative at UN New York.
others who were appointed by the head of stated to the positions of High Commissioners include Ambassador John Tipis (Canberra), Immaculate Wambua (Ottawa) and Amb Catherine Mwangi (Pretoria).
Here is the full list of appointments;
HIS Excellency the President has on this Fifteenth Day of October 2020 caused nominations and appointments to the senior ranks of the public service for persons to serve the Nation as Ambassadors, High Commissioners and Permanent Representatives in Kenya's Embassies/High Commissions/Missions abroad.
The persons who by dint of the Presidential Action will join our Nation's esteemed foreign service, are as follows: 
High Commissioners
Station  Names
Canberra – Amb. John Tipis
Ottawa – Ms Immaculate Wambua
Pretoria – Amb. Catherine Mwangi
Permanent Representative
United Nations New York – Amb. Martin Kimani
Ambassadors
Addis Ababa – Amb. Jean Kamau 
Bangkok – Mr. Linday Kiptiness 
Berlin – Amb.Tom Amolo 
Brasilia  – Amb. Lemarron Kaanto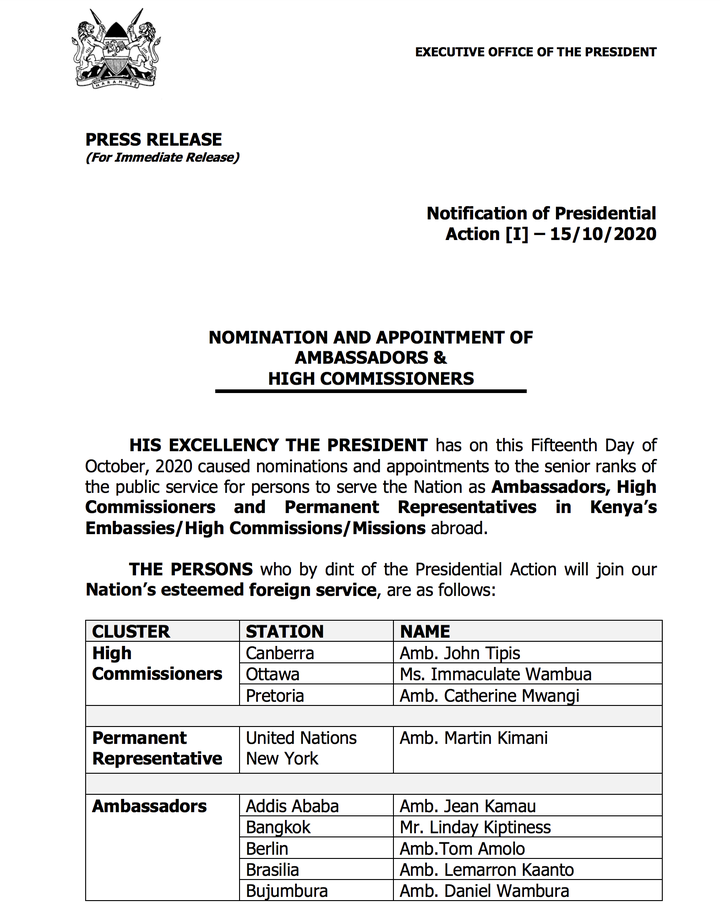 Congratulations to Margaret Mwachanya and Consolata Nkatha you resign from IEBC and my good mr president rewards with an Ambassadorial job! Enyewe kweli kenya hii iko mambo!

— Sen. Ledama Olekina (@ledamalekina) October 15, 2020
The three DISGRACED @IEBCKenya commissioners didn't even merit a full ambassador. They come very CHEAP. List full of Mt Kenya. Kenya is bigger. pic.twitter.com/8LvWVwEIMZ

— Prof Makau Mutua (@makaumutua) October 15, 2020